20 National Delegations Marched Through the Streets and Along the Beach of Montañita in Front of Thousands of Locals During the Opening Ceremony
The 2013 ISA World Masters Surfing Championship officially opened Saturday, April 6, 2013. In attendance were the 20 countries that traveled to Ecuador from every corner of the world. Local authorities, officials and thousands of enthusiastic Ecuadorians were witnesses to the start of the World Championship.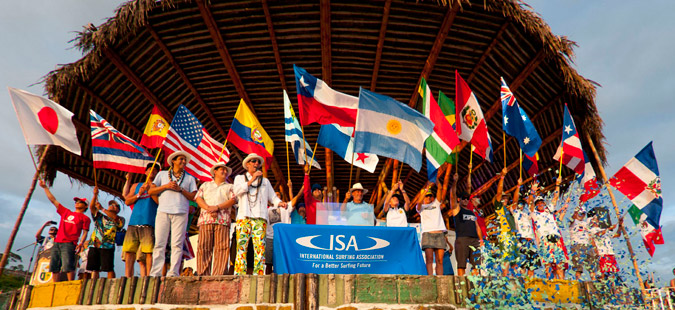 The National Delegations congregated in the heart of Montañita and walked through the streets that were filled with thousands of supporters. The Parade of Nations route then took a turn to the beach and finished at the Concha Acustica stage, that was located adjacent to the ocean. When arriving to the stage, two representatives of each team walked on stage, one waving the national flag while the other poured sand from their local beach into a glass container, symbolizing the peaceful gathering of nations through the love of surfing.
"I am very happy to see the love of Ecuador's people for the ocean, and I have high hopes for this championship and that it marks the relationship between people and the ocean," remarked ISA President Fernando Aguerre. "Montañita is a wonderful place; it's an incredible paradise! Take care of it and give it your love. Thank you Ecuador, Santa Elena, Montañita, the government, the private sector and the people of Ecuador. Thank you for having us."
"What happiness and joy it brings me to be in my land and know the pride that we feel for once again organizing an event of this magnitude and transmit to the world that we are capable of organizing and executing in a successful way," said Ecuador's Minister of Sport Jose Francisco Cevallos, referencing the two previous ISA World Championship held in Ecuador. "Thank you very much for all the support that has been given to this magnificent event."
After a beautiful showcase of local Ecuadorian traditional dances, President Aguerre, Minister Cevallos, and Governor Soto officially declared open the 2013 ISA World Masters Surfing Championship.
Following the Opening Ceremony, a 7-meter (22 feet) sculpture was unveiled, honoring Montañita's historic contribution to the development of surfing in Ecuador. This sculpture marks Montañita as an international surfing destination, where it will welcome surf travelers from around the world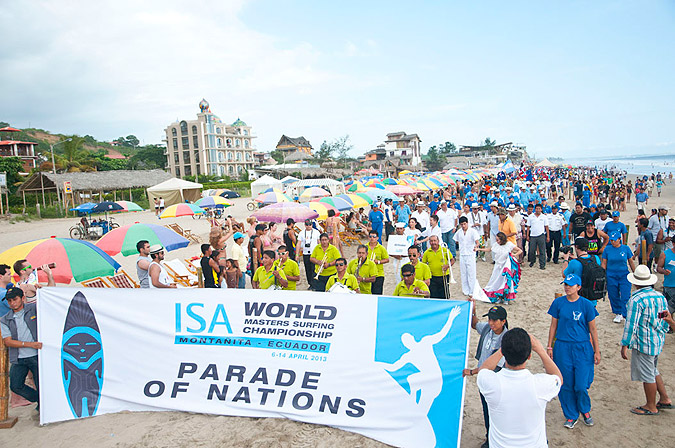 20 National Delegations paraded through the streets and along the beaches of Montañita in Front of Thousands of enthusiastic Ecuadorians. Photo: ISA/Rommel Gonzales
Competition starts on Sunday with The Morning Show at 7:40am (local time) followed by Qualifying 1 of Grand Masters (over 40 years old) at 8am, Qualifying 1 of Masters (over 35 years old) at 11am, and Qualifying 1 of Kahunas (over 45 years old) at 2:20pm.
The live webcast of the entire championship is available on www.isawmsc.com
Here is the schedule:
Sunday, 7:40am Montañita, Ecuador
Sunday, 5:40am West Coast USA
Sunday, 2:40pm Western Europe
Sunday, 11:40pm Sydney, Australia
About the International Surfing Association:
The International Surfing Association (ISA), founded in 1964, is recognized by the International Olympic Committee as the World Governing Authority for Surfing. The ISA governs and defines Surfing as Shortboard, Longboard & Bodyboarding, StandUp Paddle (SUP) Racing and Surfing, Para Surfing, Bodysurfing, Wakesurfing, and all other wave riding activities on any type of waves, and on flat water using wave riding equipment. The ISA crowned its first Men's and Women's World Champions in 1964. It crowned the first Big Wave World Champion in 1965; World Junior Champion in 1980; World Kneeboard Champions in 1982; World Longboard Surfing and World Bodyboard Champions in 1988; World Tandem Surfing Champions in 2006; World Masters Champions in 2007; World StandUp Paddle (SUP, both surfing and racing) and Paddleboard Champions in 2012; and World Para Surfing Champions in 2015.

ISA membership includes the surfing National Federations of 108 countries on five continents. The ISA is presided over by Fernando Aguerre (ARG). The Executive Committee includes four Vice-Presidents Karín Sierralta (PER), Kirsty Coventry (ZIM), Casper Steinfath (DEN) and Barbara Kendall (NZL), Athletes' Commission Chair Justine Dupont (FRA), Regular Members Atsushi Sakai (JPN) and Jean Luc Arassus (FRA) and ISA Executive Director Robert Fasulo as Ex-officio Member.

Its headquarters are located in La Jolla, California (USA).
youtube.com/isasurfing
facebook.com/isasurfing
Instagram.com/isasurfing
twitter.com/isasurfing