Dozens of Ecuador's Media Outlets and Government Officials were Present at the Press Conference
The 2013 ISA World Masters Surfing Championship starts tomorrow with the Opening Ceremony featuring the parade of Nations and Sands of the World Ceremony. All 20 National Teams and 150 participating athletes will gather and parade down the streets and beaches of Montañita in front of thousands of local spectators.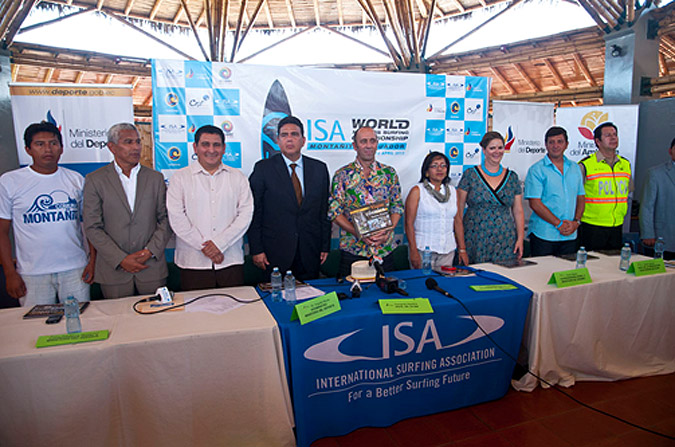 ISA President Fernando Aguerre was joined by Ecuador's Government Officials including Vice Minister of Sport Augusto Moran (fourth from left), Vice Minister of Environment Mercy Borbor (fourth from right), Governor of Santa Elena John Paul Soto Garcia (third from left) amongst others. Photo: ISA/Rommel Gonzales
Today, the official press conference of the championship took place in the beautiful Amantes de Sumpa Museum in the province of Santa Elena where over 40 representatives of Ecuador's leading media outlets were present.
"For me it's an honor and joy to return to Ecuador, a country that I have in my heart for many years," remarked ISA President Fernando Aguerre. "I was just recently flying over the beautiful coast of the country and was thinking that Ecuador is truly a paradise and a really special place."
"One does not stop surfing or practicing other sports because of getting old, one gets old if you stop practicing them. That is why we still surf and will do so till the end," concluded Aguerre.
"We are very happy to receive 20 National Delegation from 5 continents," commented Vice Minister of Sport Augusto Moran. "The world's strongest surf teams will be gathering in Montañita tomorrow to mark the start of the 6th edition of the World Championship. 150 athletes will be representing their National Teams that are formed by a maximum of 8 athletes in each team. We are really going to witness during the next 10 days of competition a true festival in a place that is an icon of surfing in Latin America like Montañita."
"Welcome everyone to Santa Elena province," said Governor of Santa Elena John Paul Soto Garcia. "This warm province welcomes you with open arms and hopes that during the following days of competition all of you will have a great time, enjoy our beaches and the warmth of our people. Thank you very much."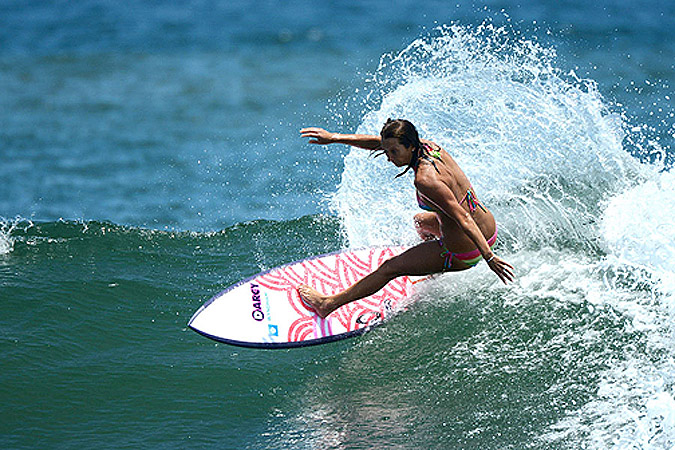 In preparation for the start of the ISA World Masters Surfing Championship, 2011's Women's Masters Gold Medalist, Layne Beachley (AUS) warmed up in the amazing waves of Montañita. Photo: ISA/Michael Tweddle
Tomorrow, the Opening Ceremony will officially mark the start of the World Championship in the beautiful coastal town of Montañita, and will feature the ISA's traditional Parade of Nations and Sands of the World Ceremony. This ceremony allows each participating nation to come to the stage waving their national flag while pouring sand from their local beach into a glass container symbolizing the peaceful gathering of nations through the love of surfing.
The live webcast of the Opening Ceremony begins at 4pm, local time and can be viewed on http://www.isawmsc.com/live/
Here is the schedule:
Saturday, 4pm Montañita, Ecuador
Saturday, 2pm West Coast USA
Saturday, 11pm Western Europe
Sunday, 8am Sydney, Australia
About the International Surfing Association:
The International Surfing Association (ISA), founded in 1964, is recognized by the International Olympic Committee as the World Governing Authority for Surfing. The ISA governs and defines Surfing as Shortboard, Longboard & Bodyboarding, StandUp Paddle (SUP) Racing and Surfing, Para Surfing, Bodysurfing, Wakesurfing, and all other wave riding activities on any type of waves, and on flat water using wave riding equipment. The ISA crowned its first Men's and Women's World Champions in 1964. It crowned the first Big Wave World Champion in 1965; World Junior Champion in 1980; World Kneeboard Champions in 1982; World Longboard Surfing and World Bodyboard Champions in 1988; World Tandem Surfing Champions in 2006; World Masters Champions in 2007; World StandUp Paddle (SUP, both surfing and racing) and Paddleboard Champions in 2012; and World Para Surfing Champions in 2015.

ISA membership includes the surfing National Federations of 108 countries on five continents. The ISA is presided over by Fernando Aguerre (ARG). The Executive Committee includes four Vice-Presidents Karín Sierralta (PER), Kirsty Coventry (ZIM), Casper Steinfath (DEN) and Barbara Kendall (NZL), Athletes' Commission Chair Justine Dupont (FRA), Regular Members Atsushi Sakai (JPN) and Jean Luc Arassus (FRA) and ISA Executive Director Robert Fasulo as Ex-officio Member.

Its headquarters are located in La Jolla, California (USA).
youtube.com/isasurfing
facebook.com/isasurfing
Instagram.com/isasurfing
twitter.com/isasurfing