The DAKINE ISA World Junior Surfing Championship Presented by Billabong Heats Up as the First Surfers Drop Out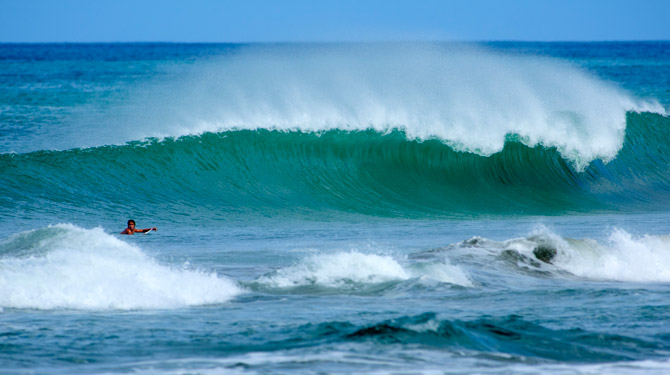 Amazing surfing continued during Day 3 of the DAKINE ISA World Junior Surfing Championship Presented by Billabong as Nicaragua's offshore wind prevailed all day long.
Competition intensified as the first Repechage Rounds took place today. This is a do-or-die round, if a surfer gets 3rd or 4th place, the athlete is out of the contest.
"The competition is reaching its critical stages, when athletes can't afford to lose or they will go home," remarked ISA President Fernando Aguerre. "The camaraderie between all the National Teams and the local Nicaraguans has created a great vibe amongst the surfing tribe. The waves are amazing; Nicaragua is truly a surfer's paradise. Stay tuned all week and don't miss a minute of the live webcast."
Today showcased Qualifying and Repechage rounds of the world's best under-18 and under-16 Boys and Girls with great waves in the 3-5ft range with occasional bigger sets.
Australia's Stephanie Single and Kristen Ogden led the Girls Under-18. Single earned 15.90, followed by her teammate Ogden with 14.67, the highest total heat scores of the Round.
Single defeated Keshia Eyre (POR, 7.83), Camila Kemp (POR, 6.33) and Paula Duarte (CRC, 0.77). Ogden followed in her teammate's footsteps dominating her heat defeating Hinako Kurokawa (JPN, 7.07), Leilani McGonagle (CRC, 5.36) and Iliana Aguirre (ECU, 2.23).
In the Girl's Under-16, the stand out of the day was Holly Wawn from Australia, posting a total heat score of 16.00 against her teammate Isabella Nichols (AUS, 13.16), Jodie de Armas Tracy (GER, 3.10) and Teresa Bonvalot (POR, 2.97).
At the same time, the first Repechage Rounds of the Boys Under-18 and Under-16 was taking place at the second podium.
Germany's Arne Bergwinkl was the best performer in the Boys under-18 Repechage 1. He posted a total of 13.00 points defeating Irons Burgos (ECU, 6.33), Giancarlo Marin (VEN, 6.06) and the local surfer Yuber Martínez (NIC, 5.24). Bergwinkl surfed again in Repechage 2 and is still in the competition after advancing in second place.
In the Boys under-18, Colin Moran from Team USA, earned 16.06 defeating Sean Kettle (NZL, 11.40), Jose Luis Ramos (SAL, 7.57), Jorge Soto (CHI, 3.33).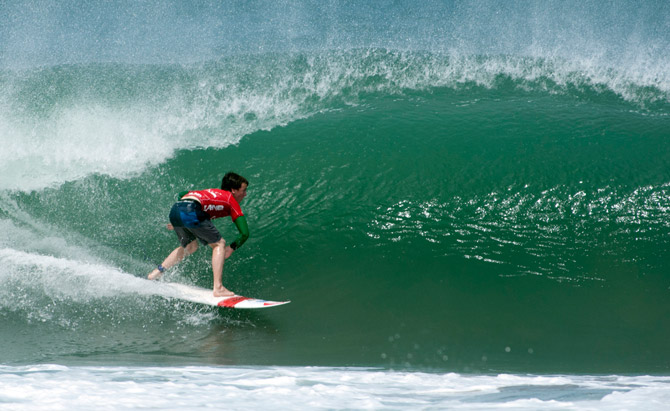 Despite a solid effort in a very close heat, Ireland's lone competitor, Gearold McDaid, lost out of the competition today. Photo: ISA/Rommel Gonzales
With the day's highest total heat score, France's Nomme Mignot earned 17.83 dominating Jorge Alejandro Rivas (SAL, 6.27), Malakai Martinez (CRI, 6.10), and Sebastian Oliva (CHI, 4.67).
For a full list of today's results, click here- http://isawjsc.com/results/
The 2013 DAKINE ISA World Junior Surfing Championship resumes Wednesday at 7:40am with The Morning Show hosted by Chris Ernst, and with guests from Team Germany and Team Japan.
Following that, the competition will feature:
Main Podium:
6 Heats Qualify 3 Boys U-18
8 Heats Qualify 2 Boys U-16
3 Heats Qualify 3 Girls U-18
3 Heats Qualify 3 Girls U-16
6 Heats Repechage 4 Boys U-18
Second Podium:
6 Heats Repechage 3 Boys U-18
8 Heats Repechage 2 Boys U-16
6 Heats Repechage 2 Girls U-18
6 Heats Repechage 2 Girls U-16
3 Heats Repechage 3 Girls U-16
3 Heats Repechage 3 Girls U-18
The live webcast of the entire 2013 DAKINE ISA World Junior Surfing Championship is available on www.isawjsc.com
Here is the scheduled for Day 3:
Wednesday, 7:40am Playa Jiquiliste, Nicaragua
Wednesday, 5:40am West Coast USA
Wednesday, 2:40pm Western Europe
Wednesday, 11:40pm Sydney, Australia
About the International Surfing Association:
The International Surfing Association (ISA), founded in 1964, is recognized by the International Olympic Committee as the World Governing Authority for Surfing. The ISA governs and defines Surfing as Shortboard, Longboard & Bodyboarding, StandUp Paddle (SUP) Racing and Surfing, Para Surfing, Bodysurfing, Wakesurfing, and all other wave riding activities on any type of waves, and on flat water using wave riding equipment. The ISA crowned its first Men's and Women's World Champions in 1964. It crowned the first Big Wave World Champion in 1965; World Junior Champion in 1980; World Kneeboard Champions in 1982; World Longboard Surfing and World Bodyboard Champions in 1988; World Tandem Surfing Champions in 2006; World Masters Champions in 2007; World StandUp Paddle (SUP, both surfing and racing) and Paddleboard Champions in 2012; and World Para Surfing Champions in 2015.

ISA membership includes the surfing National Federations of 108 countries on five continents. The ISA is presided over by Fernando Aguerre (ARG). The Executive Committee includes four Vice-Presidents Karín Sierralta (PER), Kirsty Coventry (ZIM), Casper Steinfath (DEN) and Barbara Kendall (NZL), Athletes' Commission Chair Justine Dupont (FRA), Regular Members Atsushi Sakai (JPN) and Jean Luc Arassus (FRA) and ISA Executive Director Robert Fasulo as Ex-officio Member.

Its headquarters are located in La Jolla, California (USA).
youtube.com/isasurfing
facebook.com/isasurfing
Instagram.com/isasurfing
twitter.com/isasurfing