The Stage is Set for the Grand Finals of the DAKINE ISA World Junior Surfing Championship in Nicaragua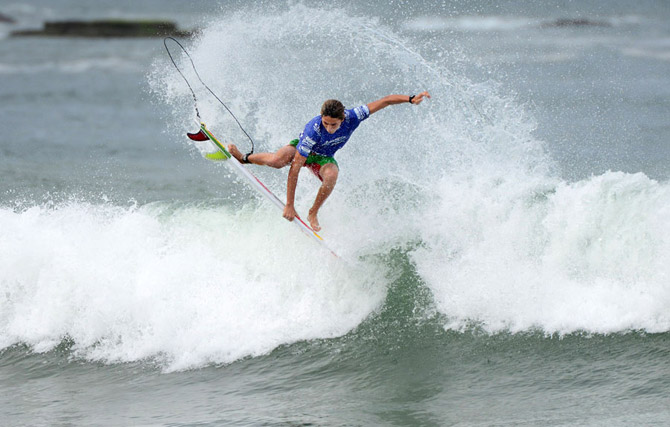 After a long and exciting week of excellent waves, performances and great vibes in Nicaragua's Playa Jiquiliste, the 2013 DAKINE ISA World Junior Surfing Championship culminates with the Grand Finals and the Aloha Cup.
All Medalists will be crowned and the Team Champion will be decided on Sunday.
Today was a crucial day for the overall team standings. Hawaii lost a few key surfers in Koa Smith, Kaoli Kahokuloa and Bailey Nagy, dropping down to second and giving way to Team Australia, which is now leading the rankings.
The surf, though it remained contestable, dropped in size and some rain moved in through the region resulting in challenging conditions. However, Surfline, the Official Forecaster, predicts the waves are expected to pick up overnight and be in the chest-high range with offshore winds for the Final Day of competition.
"We are one day away from crowning the Team Champion and all the Medalists," remarked ISA President Fernando Aguerre. "Team Hawaii and Australia are leading the charge, but we have individuals from Italy, Japan, Germany, and Costa Rica who have made it this far. You can tell there are great surfers from all around the world and that's the job of the ISA. I love doing what I do."
Aguerre continued, "Right now we are taking surfing to Africa, Asia, we've done a very good job in Latin America, and we are even taking surfing to inland Europe. With the new wave pool that was just announced in Spain, we are going to take surfing everywhere."
Today began with the Qualifying Final Rounds of the four divisions. The firsts medalists were decided in really intense and hard fought heats.
In the Under-18 Division, Luke Hynd (AUS) and Andy Criere (FRA) advanced to the Grand Final and are awaiting their rivals from the Repechage Final after tying with 13.44 each. Hynd advanced in first since he earned the highest scoring wave of the heat.
The Aussie and the Frenchman sent Soli Bailey (12.77), also from Australia, and Costa Rica's Noe Mar McGonagle (12.23) to the elimination round, where they will get one more shot at making it into the Grand Final.
"I just wanted to get two good waves at the start because it's really slow out there," said Hynd. "Having my teammate, Soli out in the water, we tried to get us Aussies into the Final, and get the most points to win the Gold. He had a slightly slower start than me. I was lucky to get an 8.5 pretty close to the start of the Heat. Then, I tried to do what I've done in previous Heats, sit on the inside and let Soli get some waves. In one occasion I took off and I yelled at him to go! And he got it and it was his best ride, but unluckily he didn't get a backup score, but he stills has another chance to get in the Grand Final so I think we'll go well."
In the Boys Under-16, Australia's Jacob Wilcox and Italy's Leonardo Fioravanti made it to the Grand Final with scores of 13.76 and 13.23 respectively. They defeated Germany's Leon Glatzer (11.23) and Rafael Venuto (9.47) from Brazil.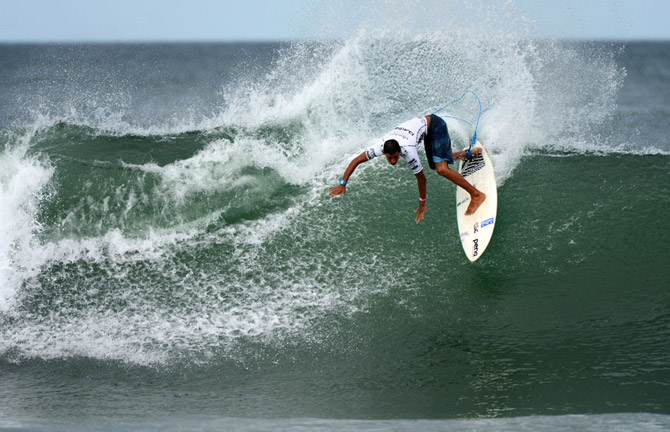 Rafeal Venuto from Team Brazil. Photo: ISA/ Michael Tweddle
This is the best individual result for Italy in an ISA World Championship.
"I'm stoked! I've been coming to ISA events for seven years now, since I was really young," said Fioravanti. "This is my last year in the Under-16, and to make the final is a great result already. To take the Gold home would be amazing, for me, for Italy, for my family, my sponsors and for everyone. I feel great out there, the waves are really fun, I'm just enjoying Nicaragua, it's such a beautiful place, it's my first time here and it feels like home."
Karelle Poppke from Tahiti was the best surfer in the Girl's Under-16 Qualifying Final, earning 15.00, followed by Hawaii's Mahina Maeda (13.10), USA's Frankie Harrer (9.83) and last year's defending champion, Hawaii's Dax McGill (7.44).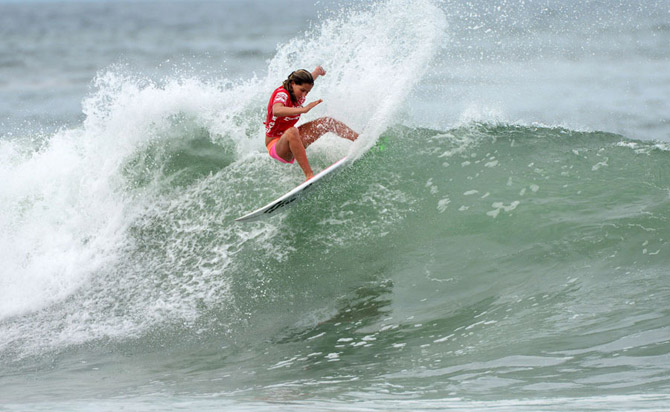 Frankie Harrer from Team USA. Photo: ISA/ Michael Tweddle
"I ended up catching really good waves," said Mahina Maeda. "I got a 7 and a 6, and I was trying to help Dax (McGill). I really wanted two Hawaiians in the Final. On one wave I went over the falls, and I hit my head with the board and buckled my board so hopefully we can fix it today. I want to surf with my magic board out there and win this whole thing."
The Tahitian and Hawaiian advanced to the Grand Final where two more girls coming from Repechage will join them.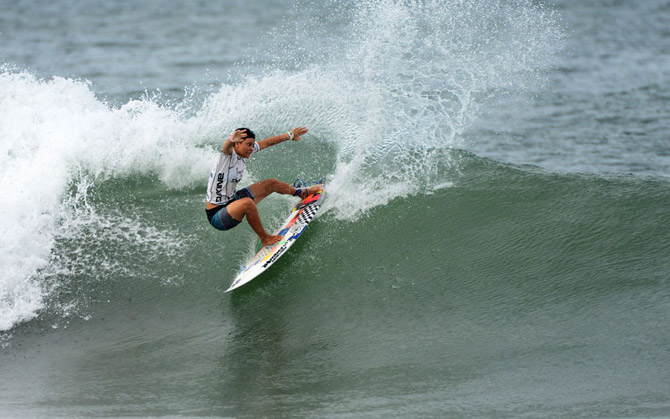 With powerful turns, Tahitian Karrel Poppke, advanced to the Girls Under-16 Final, where she will face Hawaii's Mahina Maeda and two more girls that will come from the Repechage. Photo: ISA/Michael Tweddle
In the Girls Under-18 Qualify Final, once again, Tatiana Weston-Webb had the best performance of the day. The Hawaiian earned 17.17 and advanced to the Grand Final along with Barbados' Chelsea Tuach (14.00). They defeated Australia's Kristen Ogden (12.97) and Brazil's Larissa Santos (7.17).
In the Repechage Rounds, the best of the Boys division was Elliot Ivarra (FRA), who earned 15.00 to win Repechage 9 of the Under-18 Division. And in the Girls Repechage, Australia's Isabella Nichols was the best earning 13.53 points in her Repechage 6 heat of the Under-16 division.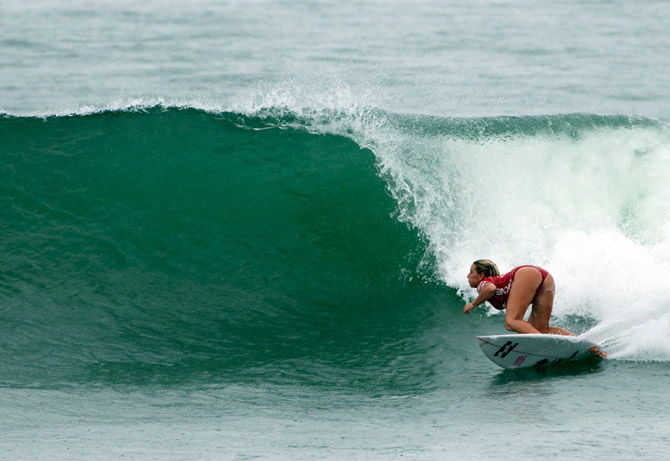 Isabella Nichols from Team Australia. Photo: ISA/ Rommel Gonzales
The overall team standings going into the final day, when the order can change dramatically, are Australia (1st), Hawaii (2nd), USA (3rd), France (4th), Brazil (5th), Japan (6th), South Africa (7th), and Peru (8th).
Sunday will be a vital day that will decide all the Medalists, Team Champion and will also feature the two semifinals and Final of the ISA Aloha Cup, a tag-team relay competition featuring the top 7 finishing teams from last year's World Junior Surfing Championship, plus the host country, Nicaragua. Each team is made up of 4 boys and 1 girl.
For a full list of today's result and team standings, click here- http://isawjsc.com/results/
The 2013 DAKINE ISA World Junior Surfing Championship resumes Sunday at 7:40am with The Morning Show hosted by Chris Ernst, and with guests from Team Australia Luke Hynd, Hawaii's Koa Smith and Kaoli Kahokuloa, and Costa Rica's Noe Mar McGonalgle.
Following that, the competition will feature:
Main Podium:
Repechage Final Girls U-16
Repechage Final Boys U-16
Repechage Final Girls U-18
Repechage Final Boys U-18
Girls U-16 Final
Boys U-16 Final
Girls U-18 Final
Boys U-18 Final
The Story of Tola Special Presentation
Aloha Cup Semifinals
Tola Grom Expression Session
Aloha Cup Final
Closing Ceremony
The live webcast of the Final Day of the 2013 DAKINE ISA World Junior Surfing Championship is available on www.isawjsc.com
Here is the scheduled for the Final Day:
Sunday, 7:40am Playa Jiquiliste, Nicaragua
Sunday, 5:40am West Coast USA
Sunday, 2:40pm Western Europe
Sunday, 11:40pm Sydney, Australia
About the International Surfing Association:
The International Surfing Association (ISA), founded in 1964, is recognized by the International Olympic Committee as the World Governing Authority for Surfing. The ISA governs and defines Surfing as Shortboard, Longboard & Bodyboarding, StandUp Paddle (SUP) Racing and Surfing, Para Surfing, Bodysurfing, Wakesurfing, and all other wave riding activities on any type of waves, and on flat water using wave riding equipment. The ISA crowned its first Men's and Women's World Champions in 1964. It crowned the first Big Wave World Champion in 1965; World Junior Champion in 1980; World Kneeboard Champions in 1982; World Longboard Surfing and World Bodyboard Champions in 1988; World Tandem Surfing Champions in 2006; World Masters Champions in 2007; World StandUp Paddle (SUP, both surfing and racing) and Paddleboard Champions in 2012; and World Para Surfing Champions in 2015.

ISA membership includes the surfing National Federations of 108 countries on five continents. The ISA is presided over by Fernando Aguerre (ARG). The Executive Committee includes four Vice-Presidents Karín Sierralta (PER), Kirsty Coventry (ZIM), Casper Steinfath (DEN) and Barbara Kendall (NZL), Athletes' Commission Chair Justine Dupont (FRA), Regular Members Atsushi Sakai (JPN) and Jean Luc Arassus (FRA) and ISA Executive Director Robert Fasulo as Ex-officio Member.

Its headquarters are located in La Jolla, California (USA).
youtube.com/isasurfing
facebook.com/isasurfing
Instagram.com/isasurfing
twitter.com/isasurfing