Saturday September 26th 10am-3pm
Challenged Athletes Foundation
9591 Waples Street, San Diego, CA 92121
Goals:
Display incredible things happening in Adaptive Surfing around the globe and discuss opportunities, needs, and best practices.
Empower National Federations and others to create successful Adaptive Surfing Programs including.
Schedule:
10:00– 10:30 Opening Introduction and Presentations:

International Surfing Association vision for Adaptive Surfing Development and welcome from ISA President, Fernando Aguerre
Challenged Athletes Foundation overview and grant application presentation from CAF Senior Programs Manager, Travis Ricks
10:30-11:15pm Athlete Panel moderated by Bob Babbit

Highlight Adaptive Surfers from across the globe:

Alana Nichols (USA)
Mike Coots (Hawaii)
Dries Millard (South Africa)
Pirata (Brazil)
Ismael Araya (Costa Rica)
11:15-12:00 Adaptive Surfing Organization Showcase

Highlight Adaptive Surfing Organizations from across the globe:

Jesse Billauer (LRO)
Cara Short (AccesSurf)
Betty (NMCSD)
Luana Nobre (Adapt Surf -Brazil)
12:45-1:00 – Mark Marble (CTRS, ISA Adaptive Surfing Advisory Board) Introduction of the benefits of Adaptive Surfing, variety of disabilities and need for a clear pathway/development
1:00-1:30 Equipment Panel

Conversation between Adaptive Surfers and their Shapers about the development of Adaptive Surfing Equipment

Rich Julian & Steve Bahne
Christiaan Bailey & Eric Rausch
1:30-1:45 Keynote Presentation about Paralympic Classification

Sylvana Mestre – Play & Train, Paralympic Committee
1:45-2:00 Keynote Presentation French Adaptive Surfing Program

Serge Lougarot, Jean-Marc Saint-Geours – Association Nationale Handi Surf France
2:00-2:45 Development Pathway Panel Discussion moderated by Jon Richards, ISA Adaptive Surfing Advisory Board, Adaptive Technical Director

Discussion about Adaptive Surfing Programs and Development for National Federations to include: contests, best practices, qualification, classifications, etc.

AccesSurf with HASA
Marcus Thompson – Adaptive Surfing New Zealand
Lorenço Chaves D'Almeida – Federación Española de Surfing
2:45- 3:00 Closing and send off from ISA President Fernando Aguerre
3:00- 4:00pm Workshop and Networking to discuss and work towards tools/pathway. Feedback Forms will be available
Speaker Bios:
Athlete Panel:
Alana Nichols (USA)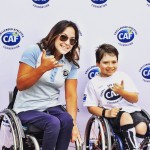 Alana Nichols is a world-class athlete with a passion for challenging herself and others. From a young age, her passion for sports and adventure has driven her and no matter what obstacle life throws her way, she takes a challenge head on. After suffering a spinal cord injury at age 17 while attempting a back flip on her snowboard, Alana quickly transitioned to adaptive sports. She is the first female American woman to win gold medals at both Summer (Wheelchair Basketball) and Winter (Alpine Ski Racing) Olympic/Paralympic Games. Currently training for the 2016 Rio De Janeiro Paralympic Games, Alana will be taking on a new athletic challenge in Sprint Kayaking and will continue to inspire and attract fans around the world.
Mike Coots (Hawaii)
"Mike Coots is a adaptive surfer, photographer, shark attack survivor and shark conservationist. He lost his leg to a Tiger Shark when he was 18, and now surfs with a prosthetic. Out of the water for a few months, he found a new love, photography. It has become his passion and career. In Mike's spare time he advocates for the protection of sharks, and enjoys offering peer support to other amputees. "
Ismael Araya (Costa Rica)
"Hello My Name Is Ismael Araya, born in the South Caribbean of Costa Rica in Puerto Viejo, Limon, I am 37 years old, and I have been blessed with 3 children. Surfing has been something very positive throughout my life. I started my career as a surfer in Playa Negra Puerto Viejo at the age of 10 years. I entered the national competition circuit, winning several events, but never winning championships (this one will be my first!). I have worked 17 years working as an instructor certified by the ISA for level 1 and 2. I am also a certified Lifeguard and ISA Certified Judge. Today I have my own surf school called Ola Surf School."
Organization Panel:
Cara Short – AccesSurf (Hawaii)
"AccesSurf is a nonprofit creating community based programs for anyone with a disability to enjoy the water."
Jesse Billauer – Life Rolls On Foundation (USA)
"Founded by quadriplegic surfer Jesse Billauer, Life Rolls On is dedicated to improving the quality of life for young people affected by spinal cord injury. Believing that adaptive surfing and skating could inspire infinite possibilities beyond paralysis, Life Rolls On began as a splash into the unknown on September 11, 2001; achieved 501c3 nonprofit status in 2002; and now touches the lives of hundreds of thousands every year."
Luana Nobre – AdaptSurf (Brazil)
Luana Nobre, Graduated in Physical Education, co-founder of ADAPTSURF, a non-profit association that promotes the social inclusion of people with disabilities, Program Coordinator since 2007, with thousands of adaptive surfing lessons given.
Development Pathway Panel:
Marcus Thompson – Adaptive Surfing New Zealand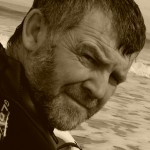 Marcus Thompson is the founder of Adaptive Surfing New Zealand Incorporated.  This is a non-profit National Body that is set to develop and establish the pathways and provide the requisite support in making adaptive surfing a sustainable lifestyle and competitive activity for New Zealanders.   HIs previous experience in the disability sector as an International Athlete and administrator for Wheelchair Basketball is a formative influence for this work.?Marcus is a respected Secondary Teacher of Design Technology and Art.  He works within the context of a supportive family where his 4 children are a central part of his surfing crew.
Presenters:
Jean-Marc Saint Geours and Jacques Lajuncomme – Association Nationale Handi Surf France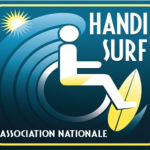 The Association Nationale Handi Surf France is recognized by the French Surfing Federation to develop Adaptive Surfing throughout France. They aim to facilitate social inclusion of handicapped people and facilitate attaining a level of autonomy close to that of an able-bodied person through:
Encouraging accessibility to Surfing
Promoting values of Adaptive Surfing
Promoting Health through sport
Contributing to the professionalization of instructors in surf clubs through training of technical staff to accomodate handicapped people.
Sylvana Mestre – Play & Train, International Paralympic Committee (Spain)
Sylvana Mestre related to the world of sport from the cradle, being the sports of sliding, skiing and surfing, her passion.From 1995 this passion moved onto the sports for persons with a disability. Since then she has been Technical Director of the Spanish Paralympic Team, the Chair of Alpine Skiing in the International Paralympic Committee and the Co-Founder and CEO of the Spanish NGO Play and Train. In her work she has been an advocate for accesibility in the sports infrastructures, helping the ski resort of La Molina with accesible changes that took them to win the IAKS Awards.