Los Mejores Surfistas Menores de 18 años de 30 países dieron una asombrosa presentación en las sólidas condiciones de Playa Jiquiliste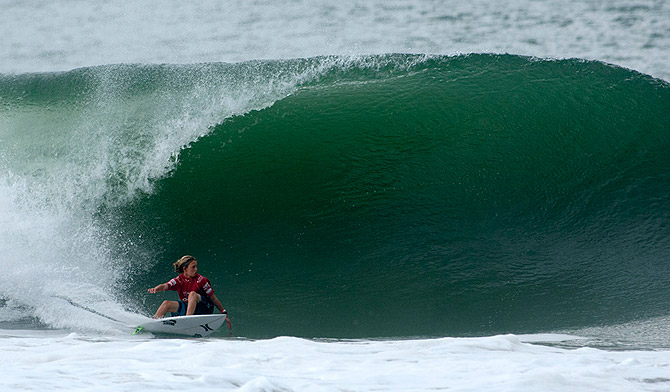 El DAKINE ISA World Junior Surfing Championship (WJSC) Presentado por Billabong inició hoy domingo, con increíbles olas en la hermosa Playa Jiquiliste, Nicaragua. Los competidores fueron recibidos con grandiosas condiciones en el famoso viento offshore nicaragüense, lo que formó un escenario espectacular para los mejores surfistas Junior del mundo.
Una gran cantidad de fanáticos nicaragüenses, oficiales y acompañantes de equipos fueron testigos la feroz competencia desde las graderías construidas en Playa Jiquiliste para este Campeonato Mundial Junior  de la ISA.
"Tuvimos un asombroso Día 1", dijo Fernando Aguerre, Presidente de la ISA. "Nos despertamos esta mañana con una ligera llovizna, que luego se secó y tuvimos increíbles olas e increíbles vientos offshore. Es simplemente perfecto. En el primer día, todos están en la playa, puedes sentir la tensión en el aire, los competidores están realmente enfocados. Vemos muchas caras nerviosas, pero este es el día más importante y ahora vamos hacia adelante".
El ISA WJSC tiene casi 300 competidores y se lleva a cabo en dos sitios de olas por separado, lado a lado. El primer día de los WJSC tuvo la Ronda Clasificatoria 1 de los Hombres Sub-18 en el Podio Principal y los Hombres Sub-16 en el Segundo Podio, para vivir un día de surf lleno de acción.
La competencia de hoy fue liderada por Hiroto Arai, de Japón, quien anotó el puntaje total de serie más alto del día, con 15.84 puntos, con los cuales derrotó a Mauricio Díaz (PUR, 10.30), Miguel Blanco (POR, 9.64) y Aurelio Prieto (ECU, 8.83).
El DAKINE ISA World Junior Surfing Championship es una competencia de doble eliminación, en la cual los dos primeros surfistas siempre avanzan a la siguiente Ronda Clasificatoria. Los surfistas que quedan en tercer o cuarto lugar caen a la Ronda de Repechaje, dándoles una segunda oportunidad. Sin embargo, si vuelven a quedar en tercer o cuarto lugar, ellos quedan fuera de la competencia.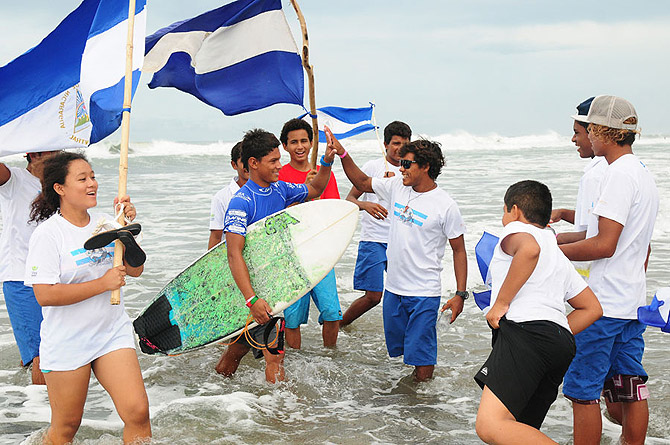 Los miembros del primer Equipo Nacional Junior de la historia de Nicaragua felicitan a Kevin Cortés por avanzar a la Segunda Ronda. Foto: ISA/Michael Tweddle
Otro surfista destacado en este día en la división Hombres Sub-18 fue Benji Brand de Sudáfrica, quien obtuvo 15.17 puntos contra Kevin Schultz (USA, 9.47), Arne Bergwinkl (GER, 9.16) y Jorge Rivas (SAL, 5.50).
En la categoría Hombres Sub-16, la competencia tuvo un día de maratón con 32 series de la Ronda Clasificatoria 1. Los competidores más jóvenes también dieron impresionantes demostraciones con altos puntajes.
El francés Nomme Mignot obtuvo 15.75 puntos, el puntaje total de serie más alto del día y venció a Jorge Rivas (SAL, 8.90) y envió a las Rondas de Repechaje a Malakai Martínez (CRI, 6.85). Mignot también obtuvo el puntaje de ola individual más alto del día en este día, 9.25 puntos.
Griffin Colapinto de Estados Unidos fue otro destacado al obtener el segundo puntaje de serie más alto, con 14.75 y derrotó a Sebastián Ventura de Argentina (5.95) y envió a Repechaje a Juan Gonzales (PUR, 4.85).
Para una lista complete de resultados ingresa aquí: http://isawjsc.com/results/
El DAKINE ISA World Junior Surfing Championship 2013 continua mañana Lunes a las 7:40am con The Morning Show con los anfitriones Chris Ernst and Mateo Rojas.
Seguidamente, la competencia tendrá:
16 series de Clasificatorio 2 de Hombres Sub-16 (Podio Principal)
12 series de Clasificatorio 2 de Hombres Sub-18 (Podio Principal)
12 series de Clasificatorio 1 de Mujeres Sub-16 (Podio Secundario)
12 series de Clasificatorio 1 de Mujeres Sub-18 (Second Podium)
La transmisión en vivo completa del DAKINE ISA World Junior Surfing Championship está disponible en www.isawjsc.com
About The International Surfing Association:
The International Surfing Association (ISA), founded in 1964, is recognized by the International Olympic Committee as the World Governing Authority for Surfing. The ISA governs and defines Surfing as Shortboard, Longboard & Bodyboarding, StandUp Paddle (SUP) Racing and Surfing, Para Surfing, Bodysurfing, Wakesurfing, and all other wave riding activities on any type of waves, and on flat water using wave riding equipment. The ISA crowned its first Men's and Women's World Champions in 1964. It crowned the first Big Wave World Champion in 1965; World Junior Champion in 1980; World Kneeboard Champions in 1982; World Longboard Surfing and World Bodyboard Champions in 1988; World Tandem Surfing Champions in 2006; World Masters Champions in 2007; World StandUp Paddle (SUP, both surfing and racing) and Paddleboard Champions in 2012; and World Para Surfing Champions in 2015.

ISA membership includes the surfing National Federations of 108 countries on five continents. The ISA is presided over by Fernando Aguerre (ARG). The Executive Committee includes four Vice-Presidents Karín Sierralta (PER), Kirsty Coventry (ZIM), Casper Steinfath (DEN) and Barbara Kendall (NZL), Athletes' Commission Chair Justine Dupont (FRA), Regular Members Atsushi Sakai (JPN) and Jean Luc Arassus (FRA) and ISA Executive Director Robert Fasulo as Ex-officio Member.

Its headquarters are located in La Jolla, California (USA).
youtube.com/isasurfing
facebook.com/isasurfing
Instagram.com/isasurfing
twitter.com/isasurfing