Great Waves Continue To Pump Into The Historic Left Pointbreak in Huanchaco
The competition intensified at the idyllic pointbreak of Huanchaco for Day 3 of the ISA World Longboard Championship. Great waves continued although the swell dropped slightly into the 3-4 foot range with calm winds and glassy conditions. With the right wave selection, the surfers connected through the different sections, resulting in over 200 yard long rides.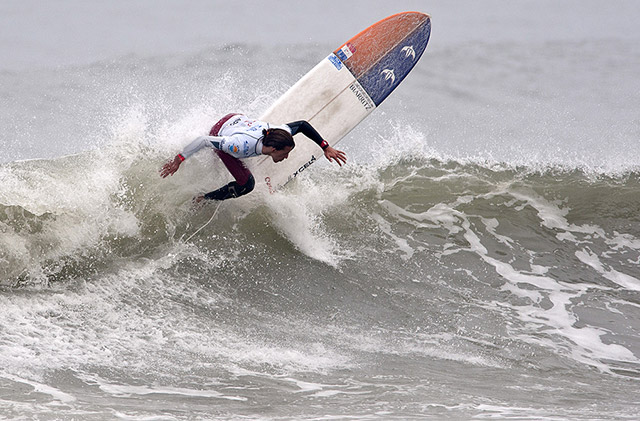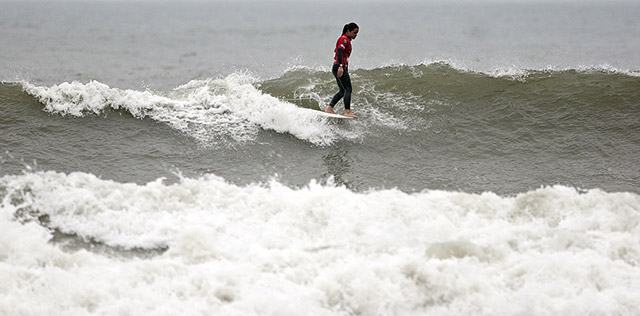 Brazil's Atalanta Nascimento kept her hopes alive, dominating her heat with a great performance of classical nose riding and high performance surfing. ISA/Rommel Gonzales
The third day of the six day event featured the Repechage rounds for the Open Men, Open Women, and Junior, followed by Qualify 3 of Open Men, for a full day of intense, often do-or-die surfing.
"The competition is reaching its critical stage, when athletes can't afford to lose or they will go home, after loosing for a second time," remarked ISA President Fernando Aguerre. "Every surfer is giving their full effort trying to get the scores they need to advance and keep Individual and Team Medal hopes alive. If you are not here in beautiful Huanchaco, the best way to enjoy the event is watching the live webcast, or go to the official website www.isawlc.com, and check out the day highlight videos and photos"
To kick-off the day, the Open Men's Repechage 2 took place, where Peru's Piccolo Clemente was the standout, earning the highest heat score of the round. The Peruvian defended his home court earning a 15.50 total heat score, narrowly defeating USA's Tony Silvagni (14.66) and sending home Uruguay's Gonzalo Eris (6.84) and Antonio Pita (6.53).
"Even though the waves have decreased in height, the ocean is more organized and the conditions have improved," said the local, Clemente, who is fighting to advance to the final through the Repechage. "There's less current and the wave has more wall, so you can perform more maneuvers. My best wave was a long hang-ten, a couple of re-entries and a closeout hit in the white water."
Clemente has been nursing a knee injury, but it didn't seem to have any effect on his surfing. "My knee has healed a lot and the pain has decreased. It still hurts, but I'm doing better compared to previous days."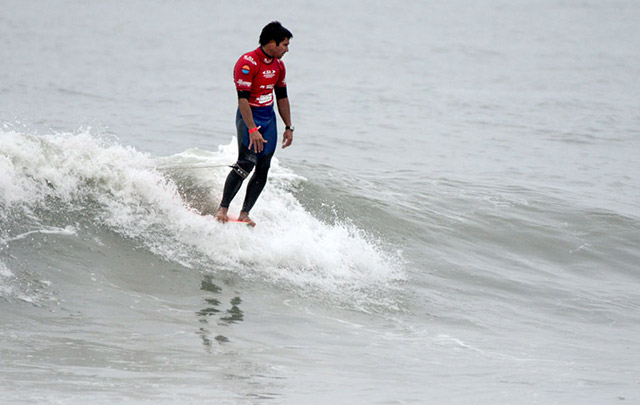 Peru's Piccolo Clemente posted the day's highest total heat score, earning 17.10. Photo: ISA/Michael Tweddle
The Peruvian surfed again in the afternoon, where he earned the day's highest total heat score of 17.10 thus keeping his hopes alive.
In the Open Women's Repechage, Brazil's Atalanta Nascimento kept her hopes alive, dominating her heat defeating Japan's Shiho Okazawa (7.24) and sending home Great Britain's Claire Smail (4.94) and Dominican Republic's Caroline De Cat (1.47).
"I didn't do well in my first round and fell to the Repechage, but now I'm confident and focused," said the happy Brazilian. "I did great in my Repechage heat, getting the highest score focusing on victory. I know there is a long road ahead but I'm concentrating."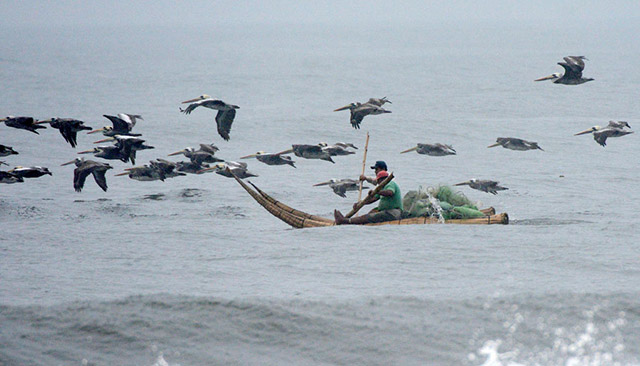 Huanchaco's local fisherman on the traditional Caballito's de Totora. Photo: ISA/Michael Tweddle
In the Junior's, Venezuela's Yoissis Delgado led the charge with the highest heat score of the division, earning 13.34, defeating USA's Nick Anderberg (7.8) and sending home one of the only 2 girls in the Junior Division, Canada's Lola Mignot (6.23).
"It was hard for me to fall to Repechage after coming all the way here and so much hard training," said Delgado. "Nonetheless, my concentration is better and I have the right attitude to advance in my heats. I thank my Venezuelan teammates for all their support."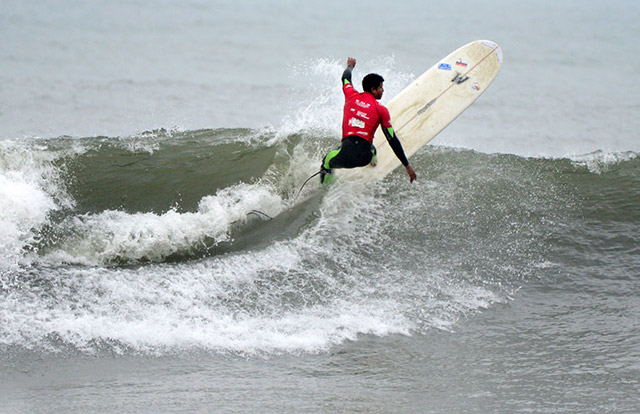 Yoissis Delgado from Venezuela used high performance maneuvers to earn high scores and advancing into the next round in the repechage. Photo: ISA/Michael Tweddle
Following the Repechage rounds, the Men's Qualifying 3 hit the water, with performances at a very high level. The standout was Great Britain's Ben Skinner, who earned an impressive 17.00 total heat score, defeating South Africa's Thomas King (12.66) and sending into the Repechage Australia's Jared Neal (11.57) and USA's Taylor Jensen (11.4).
"This is such an incredible wave," said an elated Skinner, who arrived in Peru having won the European Surfing Championship's Longboard Division just two days before. "Coming from Great Britain, we don't have these long left points or even right hand points. It's an amazing experience to be here at the first ISA World Longboard Championship, representing Great Britain, and to have a heat like that, and beat a 2-time world champion was just one of the biggest achievements of my life so far."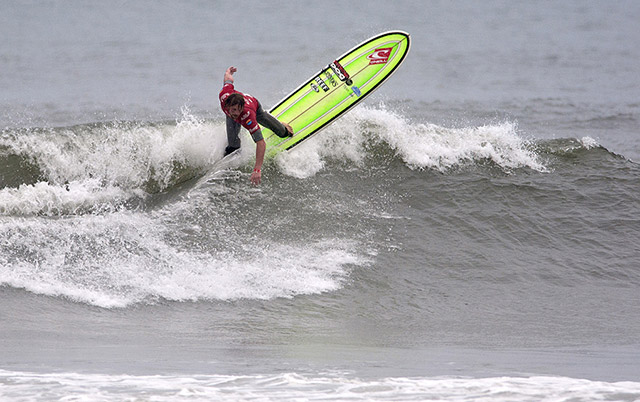 Great Britain's Ben Skinner. Photo: ISA/ Rommel Gonzales
For a full list of today's results, go to- www.isawlc.com/results
The 2013 ISA World Longboard Championship resumes Thursday at 7:40am with The Morning Show featuring members of Team New Zealand and Hawaii.
Following that, the competition will feature:
Repechage 4 Open Men's
Repechage 2 Open Women's
Repechage 2 Junior Under-18
Qualifying 4 Open Men's
Repechage 5 Open Men's
Repechage 3 Open Women's
Repechage 3 Junior Under-18
The live webcast of the entire 2013 ISA World Longboard Championship is available on www.isawlc.com
About the International Surfing Association:
The International Surfing Association (ISA), founded in 1964, is recognized by the International Olympic Committee as the World Governing Authority for Surfing. The ISA governs and defines Surfing as Shortboard, Longboard & Bodyboarding, StandUp Paddle (SUP) Racing and Surfing, Para Surfing, Bodysurfing, Wakesurfing, and all other wave riding activities on any type of waves, and on flat water using wave riding equipment. The ISA crowned its first Men's and Women's World Champions in 1964. It crowned the first Big Wave World Champion in 1965; World Junior Champion in 1980; World Kneeboard Champions in 1982; World Longboard Surfing and World Bodyboard Champions in 1988; World Tandem Surfing Champions in 2006; World Masters Champions in 2007; World StandUp Paddle (SUP, both surfing and racing) and Paddleboard Champions in 2012; and World Para Surfing Champions in 2015.

ISA membership includes the surfing National Federations of 108 countries on five continents. The ISA is presided over by Fernando Aguerre (ARG). The Executive Committee includes four Vice-Presidents Karín Sierralta (PER), Kirsty Coventry (ZIM), Casper Steinfath (DEN) and Barbara Kendall (NZL), Athletes' Commission Chair Justine Dupont (FRA), Regular Members Atsushi Sakai (JPN) and Jean Luc Arassus (FRA) and ISA Executive Director Robert Fasulo as Ex-officio Member.

Its headquarters are located in La Jolla, California (USA).
youtube.com/isasurfing
facebook.com/isasurfing
Instagram.com/isasurfing
twitter.com/isasurfing