Surfline's Official Forecast Calls for Excellent Surf Conditions for the Duration of the Contest Period
A total of 21 countries and over 130 athletes are confirmed to compete in the 2013 ISA World Masters Surfing Championship in the beautiful and vibrant town of Montañita in the Province of Santa Elena, Ecuador.
The confirmed countries are Argentina, Australia, Brazil, Chile, Costa Rica, Denmark, Dominican Republic, Ecuador, France, Great Britain, Hawaii, Japan, Mexico, Panama, Peru, Puerto Rico, South Africa, Spain, Uruguay, USA and Venezuela.
"There are only a few days to go before the Opening Ceremony and the start of the 2013 ISA World Masters Surfing Championship. All National Teams have been announced and the athletes have begun to arrive in the beautiful town of Montañita, Ecuador," remarked ISA President Fernando Aguerre. "The surfers will be practicing at the perfect right hand point-break waves in preparation for the World Championship that begins with the Opening Ceremony on Saturday and the competition on Sunday. Great surfing conditions and waves in the chest-high to overhead range in Ecuador's warm water are welcoming the delegations. As I like to remind all athletes, while a few competitors will go home with medals, all of them are already winners, as they are surfing as members of their National Surfing Teams."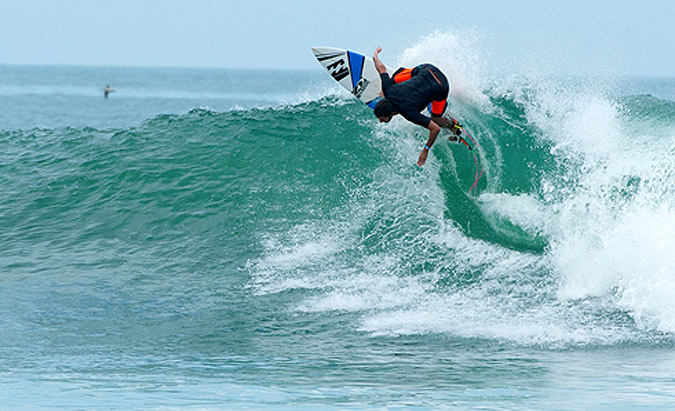 Ecuador team member Andres Fernandez using local knowledge to his advantage during today's free-surf session that featured the world's best Master surfer. Photo: ISA/Rommel Gonzales
Surfline, the official forecaster of the event, has predicted great waves during the whole contest period.
"At this point there looks to be plenty of surf throughout the event from a combination of southwest, south and northwest swells with head high+ waves and overhead sets from April 7-9 with potential for a similar, or even larger, size combination of northwest and south swell over the last few days of the waiting period," said Surfline's Head Forecaster Kevin Wallis.
Below is a full list of the confirmed teams. Please note team registration closes on Friday is subject to change. The final list will be found on- http://www.isawmsc.com/teams/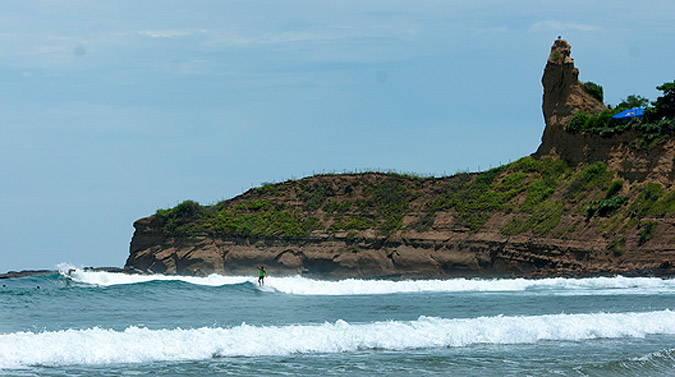 Excellent surf conditions have greeted the surfers at the beautiful right hand point-break waves of Montañita. Photo: ISA/Rommel Gonzales
Argentina
Masters: Alejo Martinez and Martin Passeri
Grand Masters: Sebastian Galindo and Santiago Di Pace
Kahunas: Horacio Ipucha Luis Radziunas Gutierrez
Grand Kahuna: Ernesto Conte Gutierrez
Women Masters: Lucila Gil
Australia
Masters: Jack Spooner
Grand Masters: Scott Schindler and Glen Pringle
Kahunas: Glen Valaire and Terry Landsberg
Grand Kahuna: Charlie O'Sullivan
Women Master: Layne Beachley
Brazil
Masters: Saulo Carvalho and Rogerio Dantas
Grand Masters: Marcelo Alves and Roni Ronaldo
Kahunas: Jojo de Olivenca and Sergio Noronha
Grand Kahuna: Mickey Hofman
Women Master: Andrea Lopes
Chile
Kris Cabezas (division to be confirmed)
Santiago Melus (division to be confirmed)
Grand Masters: Jose Antonio Hernandez  and Renato 'Pelecho" Aguirre (TBC)
Kahunas: Juan Andres Guerra and Christian Ramos
Costa Rica
Masters: Kenneth Avila and Paulo Viales
Grand Masters: Kenneth Avila and Randal Chaves
Kahunas: Craig "Tequila" Schieber and Alejandro Monge
Grand Kahuna: Craig "Tequila" Schieber
Women Master: Veronica Quiros
Dominican Republic      
Kahuna: Robert Reid
Grand Kahuna: Robert Reid
Ecuador
Masters: Marcos Goncalves
Grand Masters: Rene Burgos
Grand Kahuna: Juan C. Posada / Humberto Dapelo
Women Master: Iiana Crow
Milton Suarez (TBC)
Byron Yagual (TBC)
Eugenio Verea (TBC)
France
Masters: Robin Ferderic and Regis Blanchard
Grand Masters: Olivier Salvaire and  Charlie Phillippon
Kahunas: Labastie Eric and Graclet Eric
Grand Kahuna: Darque Gilles
Women Master: Veronique Hayon
Great Britain
Richard Dodd
Hawaii
Masters: Sunny Garcia and Kalani Robb
Grand Masters: Love Hodel and Sunny Garcia
Kahunas:  Mike Latronic and Reuben Balmores
Grand Kahuna: Shuji Kasuya
Women Master: Rochelle Ballard
Japan
Masters: Hiroki Watanabe and Takeshi Terakado
Grand Masters: Masanobu Koga and Katsumi Suzuki
Kahunas: Masahisa Sakamoto and Yasushi Toyoda
Grand Kahuna: Makoto Takahashi
Women Masters: Kiyonaga Akiko
Mexico
Master: Raul Noyola
Grand Master: Elias Burgueno
Kahuna: Edy Samudio
Panama
Masters: Ricardo J. Alfaro and Gary Saavedra
Grand Master: Raul Rios
Peru
Masters: Patick Vanginhoven and Magoo De La Rosa
Cesar Aspillaga
Gabriel Aramburu
Matrin Jeri
Jose Carlos De Tramontana
Karin Sierralta
Women Master: Rocio Larrangaña
Puerto Rico
Master: Norberto Pena
Juan Ashton (division to be confirmed)
Ricardo Carbia (division to be confirmed)
Pablo Diaz (division to be confrimed)
Eduardo Cautino (division to be confirmed)
Robert Ferrer (division to be confirmed)
Alberto Licha (division to be confirmed)
South Africa
Masters: Greg Emslie and  Gary Van Wieringen
Grand Masters: Wayne Monk and Carl Roux
Kahuna: Andre Malherbe and David Malherbe
Grand Kahuna: Chris Knutsen
Women Master: Heather Clark
Spain
Masters: Dani Garcia and Ibon Gamecho
Grand Masters: Dani Garcia and Javier Gonzalez Pinto
Kahuna: Marcos Conde
Grand Kahunas: Marcos Conde
Women Master: Estitxu Estremo/ Ana Gandarias
Uruguay
Masters: Andres Colacce and Ignacio Gandini
Grand Masters: Ferderico Maisterra and Juan Aroztegui
Kahunas: Eduardo Mendez and Guillermo Palfy
Women Masters: Celia Barboza
USA
Masters: Ryan Simmons and Yves Bright
Grand Masters: Dean Randazzo and Rick Takahashi
Kahunas: Jim Hogan and Ricky Schaffer
Grand Kahuna: Allen Sarlo
Women Master: Siri Cota
Venezuela
Masters: Justin Mujica and Magnum Martinez
Grand Masters: Carlos Rodriguez and Jairo Merentes
Kahunas:  Alfredo Flores and Juan Angola
Grand Kahuna: Omar Vetancourt
Women Master: Natasha Rodriguez
About the International Surfing Association:
The International Surfing Association (ISA), founded in 1964, is recognized by the International Olympic Committee as the World Governing Authority for Surfing. The ISA governs and defines Surfing as Shortboard, Longboard & Bodyboarding, StandUp Paddle (SUP) Racing and Surfing, Para Surfing, Bodysurfing, Wakesurfing, and all other wave riding activities on any type of waves, and on flat water using wave riding equipment. The ISA crowned its first Men's and Women's World Champions in 1964. It crowned the first Big Wave World Champion in 1965; World Junior Champion in 1980; World Kneeboard Champions in 1982; World Longboard Surfing and World Bodyboard Champions in 1988; World Tandem Surfing Champions in 2006; World Masters Champions in 2007; World StandUp Paddle (SUP, both surfing and racing) and Paddleboard Champions in 2012; and World Para Surfing Champions in 2015.

ISA membership includes the surfing National Federations of 108 countries on five continents. The ISA is presided over by Fernando Aguerre (ARG). The Executive Committee includes four Vice-Presidents Karín Sierralta (PER), Kirsty Coventry (ZIM), Casper Steinfath (DEN) and Barbara Kendall (NZL), Athletes' Commission Chair Justine Dupont (FRA), Regular Members Atsushi Sakai (JPN) and Jean Luc Arassus (FRA) and ISA Executive Director Robert Fasulo as Ex-officio Member.

Its headquarters are located in La Jolla, California (USA).
youtube.com/isasurfing
facebook.com/isasurfing
Instagram.com/isasurfing
twitter.com/isasurfing