30 Countries and 300 of the World's Best Junior Surfers are Confirmed to Compete for Gold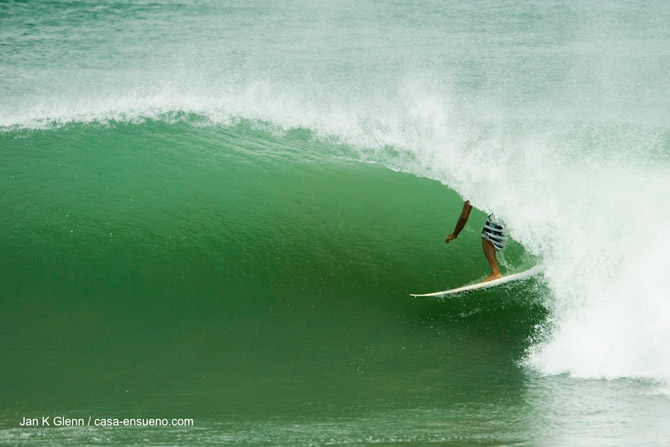 The world's best Junior (under 18) surfers will enjoy Nicaragua's incredible waves, which offer big barrel sections, as shown in this photo of the beach break, and long walls for turns and airs. Photo: Jan Glenn/casa-ensueno.com.
A total of 30 countries and 300 athletes are confirmed to compete in the 2013 DAKINE ISA World Junior Surfing Championship (WJSC) Presented by Billabong. The world's largest and most important Junior competition will take place in Playa Jiquiliste in the surf-gifted area of Rancho Santana, located 2 hours from Managua by car.
Each National Team consists of up to 4 Under-18 Boys, 2 Under-18 Girls, 4 Under-16 Boys, and 2 Under-16 Girls plus Team Officials.
The confirmed countries are Argentina, Australia, Barbados, Brazil, Chile, Costa Rica, Ecuador, El Salvador, France, Germany, Great Britain, Hawaii, Ireland, Italy, Jamaica, Japan, Mexico, New Zealand, Nicaragua, Panama, Peru, Portugal, Puerto Rico, Russia, South Africa, Switzerland, Tahiti, Uruguay, USA and Venezuela.
"There are only a few days to go before the Opening Ceremony and the start of the 2013 DAKINE ISA World Junior Surfing Championship Presented by Billabong. All National Teams have been announced and the athletes have begun to arrive in the beautiful country of Nicaragua," remarked ISA President Fernando Aguerre.
The ISA President continued, "The surfers will be practicing at the world-class point and beach break waves at Playa Jiquiliste in preparation for the World Championship that begins with the Opening Ceremony on Saturday and the competition on Sunday. Great surfing conditions and waves in the head high to overhead range in Nicaragua's warm water are welcoming the delegations. As I like to remind all athletes, while a few competitors will go home with medals, all of them are already winners, as they are surfing as members of their National Surfing Teams."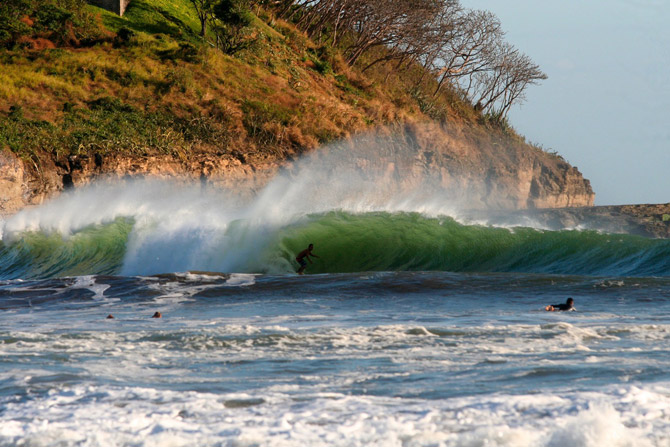 Excellent surf conditions have greeted the surfers during pre-event free surf sessions at the world-class beach break waves in Playa Jiquiliste, Nicaragua. Photo: Roberto Garcia/nicaraguasurfreport.com
Below is a full list of the confirmed teams. Please note team registration closes on Friday and team lists are subject to change. The final list will be found on http://isawjsc.com/teams/ at the close of registration.
Argentina
Under-18 Boys:
Facundo Arreyes
Tobias Orells
Joaquin Juarez
Felipe Suarez
Under-18 Girls:
Lucia Cosoleto
Aixa Sanchez
Under-16 Boys:
Ramon Barreca
Ignacio Gundensen
Lorenzo Picco
Sebastian Ventura
Under-16 Girls:
Lucia Indurain
Josefina Ane
Team Officials:
Ruben Muniz
Cristian Petersen
Gabriel Molina
Australia
Under-18 Boys:
Matt King
Soli Bailey
Luke Hynd
Eli Steele
Under-18 Girls:
Kristen Ogden
Stephanie Single
Under-16 Boys:
Jacob Wilcox
Kai Hing
Quinn Bruce
Chris Zaffis
Under-16 Girls:
Holly Wawn
Isabella Nichols
Team Officials:
Adam Robertson
Lina Lundgren
Michael Conway
James Eggington
Barbados
Under-18 Boys:
no surfers registered
Under-18 Girls:
Under-16 Boys:
Under-16 Girls:
Team Officials:
Margot Tuach
Mark Harris
Jim Hogan
Brazil
Under-18 Boys:
Luan Wood
Wesley Santos
Gabriel Farias
Gabriel Andre
Under-18 Girls:
Larissa Santos
Leticia Freitas
Under-16 Boys:
Edher Reis
Douglas Jose
Rafael Venuto
Uallase Sampaio
Under-16 Girls:
Larissa Santos
Karol Ribeiro
Team Officials:
Adalvo Argolo
Gabriel Macedo
Helio Bacana
Chile
Under-18 Boys:
Jorge Soto
Christopher Herold
Alejandro Diaz
Under-18 Girls:
Under-16 Boys:
Jose Recordon
Sebastian Oliva
Under-16 Girls:
Adela Recordon
Javiera Veliz
Team Officials:
no team officials registered
Costa Rica
Under-18 Boys:
Noe Mar McGonagle
Manuel Mesén
Jason Mora
Tomas King
Under-18 Girls:
Leilani McGonagle
Paula Duarte
Under-16 Boys:
Leonardo Calvo
Bruno Carvalho
Aldo Chirinos
Malakai Martínez
Under-16 Girls:
Leilani McGonagle (Pavones)
Emily Gussoni
Team Officials:
Cassio Carvalho
Sean McGonagle
Randall Chaves
Ecuador
Under-18 Boys:
Aurelio Xavier Prieto Blum
Irons Buurgos
Under-18 Girls:
Maria Game
Michelle Loaiza Cardenas
Under-16 Boys:
Under-16 Girls:
Team Officials:
El Salvador
Under-18 Boys:
Erick Alonso Portillo Gonzalez
Jorge Alejandro Rivas Amaya
Jose Luis Ramos Perez
Francisco Antonio Martinez Cartro
Under-18 Girls:
Under-16 Boys:
Erick Alonso Portillo Gonzalez
Jorge Alejandro Rivas Amaya
Jose Luis Ramos Perez
Bryan Stanley Alas Perez
Under-16 Girls:
Team Officials:
Marcelo Jose Castellanos Soto
Karlo Jose Mejia Martinez
Enzo Guillermo Rubio Chavarria
France
Under-18 Boys:
Diego Mignot
Nelson Cloarec
Andy Criere
Elliot Ivarra
Under-18 Girls:
Josephine Costes
Marie Troja
Under-16 Boys:
Nomme Mignot
Arthur Lassee
Timonthe Bisso
Gatien Delahaye
Under-16 Girls:
Team Officials:
Stephane Corbinien
Patrick Flores
Martin Yann
Nicolas Berthe
Amadine Sanchez
Thierry Durantel
Pierre Marc Gaillard
Stephane Sisco
Xavier Delanne
Germany
Under-18 Boys:
Arne Bergwinkl
Leon Glatzer
Nicholas von Blottnitz
Nuno Heinrich Zitzer
Jakob Lilienweiss (alternate)
Under-18 Girls:
Kira Groen
Jodie de Armas Tracy
Under-16 Boys:
Leon Glatzer
Goncal Fragoso
Ric-Leon Herz
Julius Wenzel
Jakob Lilienweiss (alternate)
Under-16 Girls:
Jodie de Armas Tracy
Lilly von Treuenfells
Team Officials:
Arnd Wiener
Nicole Green
Louis Josek
Great Britain
Under-18 Boys:
Miles Lee Hargreaves
Paddy Daniel
Taz Knight
Will Davey
Under-18 Girls:
Ellen Harding
Emily Currie
Under-16 Boys:
Harry De Roth
Max Payne
Rhys Barfield
Angus Scotney
Under-16 Girls:
Peony Knight
Flora Lawton
Team Officials:
Lloyd Cole
Gwen Spurlock
John Ellis
Hawaii
Under-18 Boys:
Koa Smith
Josh Moniz
Kaoli Kahokuloa
Kain Daly
Under-18 Girls:
Tatiana Weston-Webb
Bailey Nagy
Under-16 Boys:
Seth Moniz
Imaikalani DeVault
Kaulana Apo
Elijah Sean Donovan
Under-16 Girls:
Team Officials:
Bert Ishimaru
Kahea Hart
David David
Rainos Hayes
Tony
Lindsay McGill
Ireland
Under-18 Boys:
Under-18 Girls:
Under-16 Boys:
Under-16 Girls:
Team Officials:
Italy
Under-18 Boys:
Under-18 Girls:
Under-16 Boys:
Under-16 Girls:
Team Officials:
no team officials registered
Jamaica
Under-18 Boys:
Garen Pryce
Elishama Beckford
Armani Green
Under-18 Girls:
Under-16 Boys:
Ivah Wilmot
Ronald Hastings
Okeem Thompson
Under-16 Girls:
Team Officials:
Icah Wilmot
Tristan English
Japan
Under-18 Boys:
Shuki Nishi
Naomi Kobayashi
Takumi Nakamura
Hiroto Arai
Under-18 Girls:
Hinako Kurokawa
Momoko Miyasaka
Under-16 Boys:
Yuji Nishi
Kairi Noro
Takumi Yasui
Reo Inaba
Under-16 Girls:
Nagisa Tashiro
Minami Koyama
Team Officials:
Kimifumi Imoto
Atsushi Sakai
Hiromori Okajima
Mexico
Under-18 Boys:
Carlos Dominguez
Eduardo Barba
Under-18 Girls:
Under-16 Boys:
Under-16 Girls:
Team Officials:
no team officials registered
New Zealand
Under-18 Boys:
Mackenzie Christie
Dune Kennings
Sean Kettle
Elliot Paerata-Reid
Under-18 Girls:
Ella Williams
Abby Falwasser
Under-16 Boys:
Kehu Butler
Korbin Hutchings
Daniel Farr
Harrison Whiteside
Under-16 Girls:
Jasmine Smith
Dayna Story
Team Officials:
Tony Baker
Warren Asplin
Jason Ruddell
Nicaragua
Under-18 Boys:
Under-18 Girls:
Under-16 Boys:
Under-16 Girls:
Team Officials:
no team officials registered
Panama
Under-18 Boys:
Jean Carlos "Oil" Gonzalez
Roberto Diaz
Jose Luis "Chitra" Rodriguez
Jorge Lymberopulos
Under-18 Girls:
Monica Mumm
Johanny Alfonso
Under-16 Boys:
Orlando "Rolito" Ortega
Kalani Garcia
Kelvin Gonzalez
Augstin Cedeno
Under-16 Girls:
Monica Mumm
Lourdes Gabriella Elisondo
Team Officials:
Ness De Icaza
Raul Stanford
Edgar "Gary" Saavedra
Peru
Under-18 Boys:
Joaquin del Castillo
Juninho Urcia
Sebastian Correa
Lucca Mesina
Under-18 Girls:
Miluska Tello
Vania Torres
Under-16 Boys:
Lucca Saldivar
Tomas Tudela
Alonso Correa
Adrian Garcia
Under-16 Girls:
Melanie Giunta
Leilani Aguirre
Team Officials:
Portugal
Under-18 Boys:
Miguel Blanco
Pedro Coelho
Joao Kopke
Thomas Fernandes
Under-18 Girls:
Under-16 Boys:
Guilherme Fernandes
Vasco Monica
Joao Moreira
Jacome Correia
Under-16 Girls:
Teresa Bonvalot
Mariana Assis
Team Officials:
Rui Felix
Jose Braga
Pedro (Alexandre) Barbudo
Puerto Rico
Under-18 Boys:
Marley (Cristopher) Puglielli
Rolando Montes Biniloni
Paolo Schoene
Mauricio Diaz Saldana
Under-18 Girls:
Ariana Melendez Penland
Paola De Oberta Ramirez
Under-16 Boys:
Jorge Marinez
Eduardo Alfonso
Juan Gonzalez Ortiz
Anyhel Velazquez
Under-16 Girls:
Jolari Carreras Maceira
Gabroela Rubi Velez
Team Officials:
Ricardo Rubi
Sammy Martinez
Russia
Under-18 Boys:
Under-18 Girls:
Under-16 Boys:
Under-16 Girls:
Team Officials:
South Africa
Under-18 Boys:
Benji Brand
Dylan Lightfoot
Josh Smit
Diran Zakarian
Under-18 Girls:
Under-16 Boys:
Matt Mcgilivray
Jordy Maree
Steff Burrows
Shane Sykes
Under-16 Girls:
Chanelle Botha
Anoush Zakarian
Team Officials:
Johnny Bakker
Graham Hynes
Ant Brodowicz
Switzerland
Under-18 Boys:
Swen Diego Zaugg
Michael David Zaugg
Under-18 Girls:
Under-16 Boys:
Luca Carlisle
Under-16 Girls:
Nadia Erostarbe Geiser
June Erostarbe Geiser
Team Officials:
Ion Erostarbe
Heidi Zaugg
Tahiti
Under-18 Boys:
Under-18 Girls:
Under-16 Boys:
Ulysse Cuitot
Jeffery Bodo
Raiarii Faufau
William Peckett
Under-16 Girls:
Marion Philippe
Karelle Poppke
Team Officials:
Pascal Massin
Valerie Vaiho
Uruguay
Under-18 Boys:
Lucca Piscione
Nahuel Alvira
Santiago Medeiro
Mauro Tato
Under-18 Girls:
Maite de Alava
Camila Meana Crossa
Under-16 Boys:
Nicolas Malet
Matias Nobrega de Mello
Francisco Morosini Montefiori
Luis Juan Vargas
Under-16 Girls:
Maria Belen Barreiro
Delfina Morosini
Team Officials:
USA
Under-18 Boys:
Parker Coffin
Cam Richards
Colin Moran
Kevin Schulz
Under-18 Girls:
Quincy Davis
Nikki Veisins
Under-16 Boys:
Jake Davis
Jake Marshall
Colt Ward
Kanoa Igarashi, Griffin Colapinto, Thellen McKinna Worrell
Under-16 Girls:
Tia Blanco
Frankie Harrer
Team Officials:
Greg Cruse
Micah Byrne
Kevyn Dean
Justin Jung
Pauline Aubertin
Ryan Simmons
Venezuela
Under-18 Boys:
Under-18 Girls:
Under-16 Boys:
Under-16 Girls:
Team Officials:
no team officials registered
About the International Surfing Association:
The International Surfing Association (ISA), founded in 1964, is recognized by the International Olympic Committee as the World Governing Authority for Surfing. The ISA governs and defines Surfing as Shortboard, Longboard & Bodyboarding, StandUp Paddle (SUP) Racing and Surfing, Para Surfing, Bodysurfing, Wakesurfing, and all other wave riding activities on any type of waves, and on flat water using wave riding equipment. The ISA crowned its first Men's and Women's World Champions in 1964. It crowned the first Big Wave World Champion in 1965; World Junior Champion in 1980; World Kneeboard Champions in 1982; World Longboard Surfing and World Bodyboard Champions in 1988; World Tandem Surfing Champions in 2006; World Masters Champions in 2007; World StandUp Paddle (SUP, both surfing and racing) and Paddleboard Champions in 2012; and World Para Surfing Champions in 2015.

ISA membership includes the surfing National Federations of 108 countries on five continents. The ISA is presided over by Fernando Aguerre (ARG). The Executive Committee includes four Vice-Presidents Karín Sierralta (PER), Kirsty Coventry (ZIM), Casper Steinfath (DEN) and Barbara Kendall (NZL), Athletes' Commission Chair Justine Dupont (FRA), Regular Members Atsushi Sakai (JPN) and Jean Luc Arassus (FRA) and ISA Executive Director Robert Fasulo as Ex-officio Member.

Its headquarters are located in La Jolla, California (USA).
youtube.com/isasurfing
facebook.com/isasurfing
Instagram.com/isasurfing
twitter.com/isasurfing