Nicaragua's Main Media Outlets and the Minister of Tourism Joined ISA President at the Official Press Conference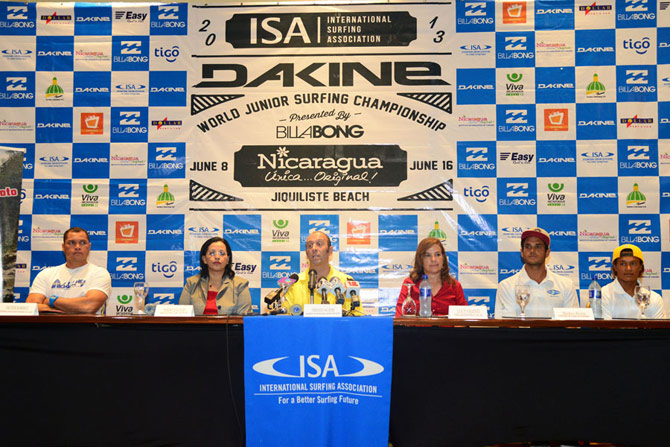 ISA President Fernando Aguerre (center) was joined by Nicaragua's Minister of Tourism Mayra Salinas (second from left), Local Event Organizer Lucy Valenti (third from right), Nicaragua's National Surfing Federation Representative Dexter Ramirez (far left), Nicaragua Team Coach Matthew Blevins (second from right), and Nicaragua Team Member Jackson Obando (far right). Photo: ISA/Michael Tweddle
The 2013 DAKINE ISA World Junior Surfing Championship begins Saturday with the Opening Ceremony featuring the Parade of Nations and Sands of the World Ceremony. All 30 National Teams and 400 Athletes and Team Officials will gather and parade down the streets of historic San Juan del Sur in front of thousands of local spectators.
The Opening Ceremony allows each participating nation to come to the stage waving their national flag while pouring sand from their local beach into a glass container symbolizing the peaceful gathering of nations through the love of surfing.
Friday, the official press conference of the World Championship took place in the beautiful capital city of Managua, where over 40 representatives of Nicaragua's leading media outlets were present. In attendance were ISA President Fernando Aguerre, Ministry of Tourism Mayra Salinas, Local Event Organizer Lucy Valenti, Nicaragua's National Surfing Federation Representative Dexter Ramirez, Nicaragua's National Team Coach Matthew Blevins, and Nicaragua's National Junior Team Captain Jackson Obando.
"I am very happy to be here in Managua, Nicaragua," remarked ISA President Fernando Aguerre. "This is a very important moment for the Government and people of Nicaragua and for the ISA. For the next 10 days, Nicaragua is going to be the center of the surfing movement and we are very excited to be here. We know we are going to have great waves. The first days of competition are going to be substantially big and, of course, with the beautiful offshore wind conditions that make Nicaragua a one-of-a-kind place, not only in Central America, but also around the world."
"I would like to thank the direct support of the National Government, President Daniel Ortega, First Lady Rosario Murillo and all of the National Institutions that have provided support for this event allowing for the organization, development, and logistics of this Surfing World Championship," said Minister of Tourism Mayra Salinas.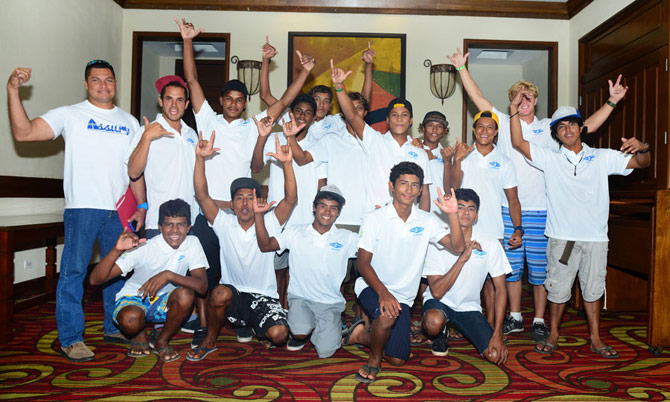 The first Nicaraguan Junior Surf Team was present at the Official Press Conference of the 2013 DAKINE ISA World Junior Surfing Championship. Photo: ISA/Michael Tweddle
Salinas continued, "I want to emphasize that this World Championship would not have taken place without the support of the International Surfing Association. I want to thank ISA President Fernando Aguerre and his staff. I also want to thank the private sector for their effort and sponsorship of the event. I want to congratulate our athletes who will be representing our country. We know they will compete with all they have as they carry the responsibility of proudly representing the whole nation."
A huge South-South West swell has delivered giant surf up and down the entire Nicaraguan coast. Most surf breaks including Playa Jiquiliste, the contest site, have been out of control since the best junior surfers in the world arrived early in the week. However, Surfline, the official forecaster of the event, has predicted the swell will drop to a manageable size and Nicaragua's classic offshore winds will return.
The live webcast of the Opening Ceremony begins at 4pm, local time and can be viewed on
www.isawjsc.com/live
Here is the schedule:
Saturday, 4pm San Juan del Sur, Nicaragua
Saturday, 2pm West Coast USA
Saturday, 11pm Western Europe
Sunday, 8am Sydney, Australia
About The International Surfing Association:
The International Surfing Association (ISA), founded in 1964, is recognized by the International Olympic Committee as the World Governing Authority for Surfing. The ISA governs and defines Surfing as Shortboard, Longboard & Bodyboarding, StandUp Paddle (SUP) Racing and Surfing, Bodysurfing, Wakesurfing, and all other wave riding activities on any type of waves, and on flat water using wave riding equipment. The ISA crowned its first Men's and Women's World Champions in 1964. It crowned the first Big Wave World Champion in 1965; World Junior Champion in 1980; World Kneeboard Champions in 1982; World Longboard Surfing and World Bodyboard Champions in 1988; World Tandem Surfing Champions in 2006; World Masters Champions in 2007; and World StandUp Paddle (SUP, both surfing and racing) and Paddleboard Champions in 2012.

ISA membership includes the surfing National Governing Bodies of 104 countries on five continents. Its headquarters are located in La Jolla, California. It is presided over by Fernando Aguerre (Argentina), first elected President in 1994 in Rio de Janeiro. The ISA's four Vice-Presidents are Karín Sierralta (PER), Kirsty Coventry (ZIM), Casper Steinfath (DEN) and Barbara Kendall (NZL).