The Surf Continues To Pump at the DAKINE ISA World Junior Surfing Championship
 
With the help of Koa Smith, the defending Team Champion, Hawaii, is holding on to the lead heading into the final three days of the DAKINE ISA World Junior Surfing Championship. Photo: ISA/Michael Tweddle
As the DAKINE ISA World Junior Surfing Championship approaches its final days of competition, the race for the Gold Medals and Team Champion Trophy intensified.
The surf continued to pump in the 3-4 foot range, with many overhead sets, and with Nicaragua's legendary offshore wind blowing from dawn till dusk, for the fourth day in a row.
After 5 days of competition, the defending Team Champion, Team Hawaii, is leading the charge as they have not lost a single athlete yet.
Following close behind is Team Australia, which has only lost one athlete. Currently, in third is Team France followed by USA, Peru, South Africa, Brazil, and Japan.
Unfortunately for Team Nicaragua, the local team, they lost their last team member, Jackson Obando, today
"As we approach the final days of the DAKINE ISA World Junior Surfing Championship, all teams continue to give their best effort," commented ISA President Fernando Aguerre. "Congratulations to Nicaragua for their fine showing as they fielded their first ever Junior team in the history of ISA competition. I am confident that with the government's support, Team Nicaragua will continue to improve."
Aguerre also said, "The waves continue to be amazing here in the beautiful paradise that is Playa Jiquiliste, Nicaragua. The world's best juniors are giving us an incredible show, so be sure not to miss any of the action on the live webcast. And if you did not watch it today, go to the video section for the highlights of each day."
The 5th Day of the event started with the Boys Under-18 Qualify Round 4, in which the best surfer was Hawaii's Koa Smith, posting a 14.50. Smith advanced in first place to the Qualify Semi-Final ahead of last year's Bronze Medalist, Noe Mar McGonagle (CRC, 12.50), Kain Daly (HAW, 9.90) and Cam Richards (USA, 7.27).
After that, it was the Repechage Rounds in the Girls and Boys divisions, where more competitors were eliminated from competition.
In the Boys Under-16 Repechage, Team USA competitor Jake Marshall was a standout in his division, surviving another day in the contest. Marshall earned the highest total heat score in Repechage, with 12.67, defeating Douglas Jose from Brazil (9.00) and sending home Japan's Takumi Yasui (6.43) and the local Nicaraguan favorite Jackson Obando (0.83).
In Girls Under-18 Repechage, Nikki Viesins (USA), earned 11.93, defeating Bailey Nagy (HAW, 10.80), Keshia Eyre (POR, 7.23) and Ella Williams (NZL, 4.70). Other standouts in this Repechage Round were Miluska Tello (PER), Marie Troja (FRA), Lulu Erkeneff (USA) and Vania Torres (PER), who all advanced to the next round.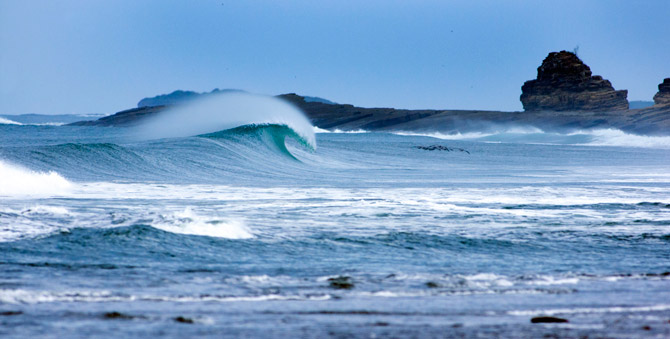 Nicaragua has delivered excellent surf every day of competition, keeping the world's best junior surfers stoked and barralled. Photo: ISA/Rommel Gonzales
Tia Blanco, another Team USA member, led the Girls Under-16 division. Blanco scored 14.26 dominating her fellow contestants Kim Veteau (FRA, 5.03), Minami Koyama (JPN, 4.43) and Chanelle Botha (RSA, 1.93). Other competitors that advanced in this division were Leilani McGonagle (CRC), Tessa Thyssen (FRA), Isabella Nichols (AUS) and Nagisa Tashiro (JPN).
For a full list of today's results, click here- http://isawjsc.com/results/
The 2013 DAKINE ISA World Junior Surfing Championship resumes Friday at 7:40am with The Morning Show hosted by Chris Ernst, and with guests from Team South Africa and Team France.
Following that, the competition will feature:
Main Podium:
2 Heats Qualify 5 Boys U-18
2 Heats Qualify 5 Boys U-16
2 Heats Qualify 4 Girls U-16
2 Heats Qualify 4 Girls U-18
3 Heats Repechage 6 Boys U-18
4 Heats Repechage 6 Boys U-16
2 Heats Repechage 5 Girls U-16
2 Heats Repechage 5 Girls U-18
2 Heats Repechage 7 Boys U-16
2 Heats Repechage 7 Boys U-18
The live webcast of the entire 2013 DAKINE ISA World Junior Surfing Championship is available on www.isawjsc.com
Here is the scheduled for Day 6:
Friday, 7:40am Playa Jiquiliste, Nicaragua
Friday, 5:40am West Coast USA
Friday, 2:40pm Western Europe
Friday, 11:40pm Sydney, Australia
About The International Surfing Association:
The International Surfing Association (ISA), founded in 1964, is recognized by the International Olympic Committee as the World Governing Authority for Surfing. The ISA governs and defines Surfing as Shortboard, Longboard & Bodyboarding, StandUp Paddle (SUP) Racing and Surfing, Bodysurfing, Wakesurfing, and all other wave riding activities on any type of waves, and on flat water using wave riding equipment. The ISA crowned its first Men's and Women's World Champions in 1964. It crowned the first Big Wave World Champion in 1965; World Junior Champion in 1980; World Kneeboard Champions in 1982; World Longboard Surfing and World Bodyboard Champions in 1988; World Tandem Surfing Champions in 2006; World Masters Champions in 2007; and World StandUp Paddle (SUP, both surfing and racing) and Paddleboard Champions in 2012.

ISA membership includes the surfing National Governing Bodies of 104 countries on five continents. Its headquarters are located in La Jolla, California. It is presided over by Fernando Aguerre (Argentina), first elected President in 1994 in Rio de Janeiro. The ISA's four Vice-Presidents are Karín Sierralta (PER), Kirsty Coventry (ZIM), Casper Steinfath (DEN) and Barbara Kendall (NZL).