The Right-Hand Point Break of Montañita Showed Its True Potential
The ISA World Masters Surfing Championship kicked off with excellent waves in the 4-6 feet range in the perfect right hand point-break in the beautiful town of Montañita. Thousands of fans gathered to see the world's best over-35 year old surfers put on spectacular performances in the surfing capital of Ecuador.
"We are here in beautiful Montañita for the first day of the ISA World Masters Surfing Championship," said ISA President Fernando Aguerre. "The waves are over-head and the world's best masters surfers are in the water. If you have been watching the live webcast, come back again tomorrow. If you have not, tune in and you will see the incredible waves of Montañita and amazing surfing performances."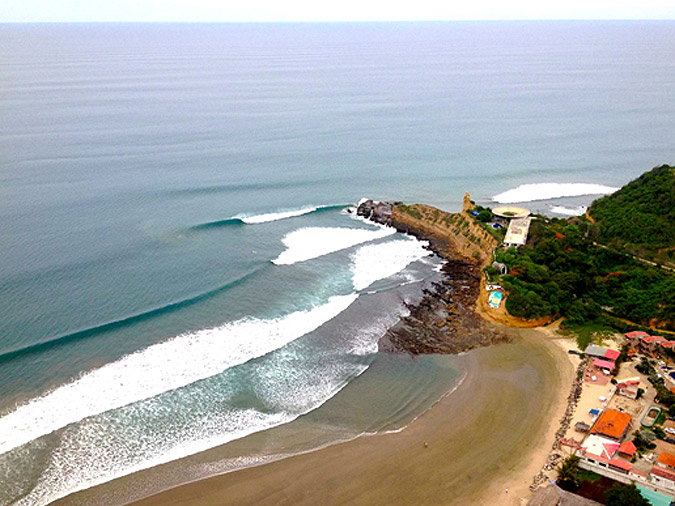 An aerial view of the contest site and the perfect waves in Montañita. Photo: Raul Guerra
Day 1 of the 2013 ISA World Masters Surfing Championship kicked-off with nine heats of Qualifying 1 of the Grand Masters (over 40) division. South Africa's Wayne Monk put on the best performance in the division, scoring the highest total heat score of 14.57, beating Roni Ronaldo Da Rosa (BRA, 11.50), and Kenneth Avila (CRC, 10.47).
The ISA World Masters is a double elimination competition, with the first two surfers always advancing to the next round.  Surfers in third and fourth place move into the Repechage round, giving them a second chance to advance.  However, another third or fourth place finish, and they will be out of the competition.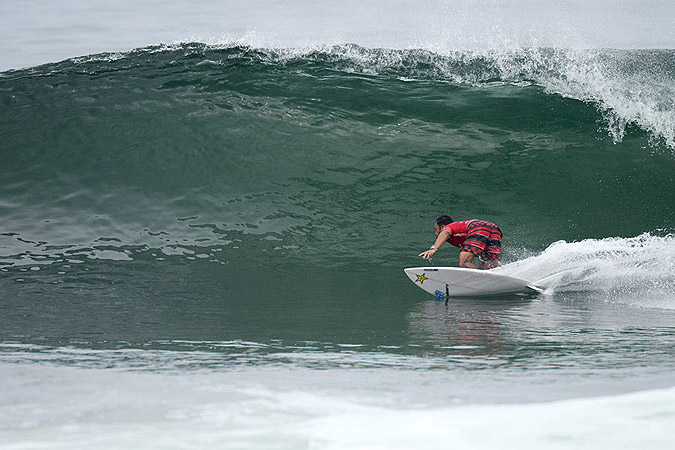 Hawaii's Sunny Garcia, the 2012 ISA Grand Masters Champion, is hungry to defend his Gold Medal and Team Championship. Garcia scored the day's highest wave and total heat score. Photo: ISA/Michael Tweddle
In the Men's Masters (over 35) division, ten heats of Qualifying 1 were surfed. 2012 Grand Masters Gold Medalist and former ASP World Tour Champion Sunny Garcia (HAW) was hungry to defend his Gold Medal and the Hawaii Team Championship. Garcia carved on some overhead open faces and registered the day's highest single wave score of 9.23 and total heat score of 17.73, while defeating Gary Saavedra (PAN, 11.60) and Ruben Andrade (ECU, 6.60).
To close the day, the Kahunas (over 45) division hit the pumping well-overhead surf with six heats of Qualifying 1. Hawaii's Mike Latronic, also a member of the 2012 Gold Medal Hawaiian Masters Team, had the strongest performance in the division, with the highest heat score of 15.93, defeating Manolo Lozano (ECU, 7.80) and Prospero Ochoa Ruiz (MEX, 4.96)
For a full list of today's results, click here- http://www.isawmsc.com/results/
The ISA World Masters Surfing Championship resumes tomorrow at 7:40am with The Morning Show hosted by Mark Fewell.
Following that, the competition will feature:
Kahunas (over 45) Qualifying 1
Grand Kahunas (over 50) Qualifying 1
Women's Masters (over 35) Qualifying 1
Grand Masters (over 40) Qualifying 2
Masters (over 35) Qualifying 2
The live webcast of the entire championship is available on www.isawmsc.com
Sunday, 7:40am Montañita, Ecuador
Sunday, 5:40am West Coast USA
Sunday, 2:40pm Western Europe
Sunday, 11:40pm Sydney, Australia
About The International Surfing Association:
The International Surfing Association (ISA), founded in 1964, is recognized by the International Olympic Committee as the World Governing Authority for Surfing. The ISA governs and defines Surfing as Shortboard, Longboard & Bodyboarding, StandUp Paddle (SUP) Racing and Surfing, Bodysurfing, Wakesurfing, and all other wave riding activities on any type of waves, and on flat water using wave riding equipment. The ISA crowned its first Men's and Women's World Champions in 1964. It crowned the first Big Wave World Champion in 1965; World Junior Champion in 1980; World Kneeboard Champions in 1982; World Longboard Surfing and World Bodyboard Champions in 1988; World Tandem Surfing Champions in 2006; World Masters Champions in 2007; and World StandUp Paddle (SUP, both surfing and racing) and Paddleboard Champions in 2012.

ISA membership includes the surfing National Governing Bodies of 104 countries on five continents. Its headquarters are located in La Jolla, California. It is presided over by Fernando Aguerre (Argentina), first elected President in 1994 in Rio de Janeiro. The ISA's four Vice-Presidents are Karín Sierralta (PER), Kirsty Coventry (ZIM), Casper Steinfath (DEN) and Barbara Kendall (NZL).