El pronostico oficial de Surfline indica condiciones excelentes de surf para la Duración del Periodo de Competencia.
Un total de 21 países y más de 130 atletas están confirmados para competir en el 2013 ISA World Masters Surfing Championship en la hermoso y vibrante pueblo de Montañita en la Provincia de Santa Elena, Ecuador.
Los países confirmados son Argentina, Australia, Brasil, Chile, Costa Rica, Dinamarca, República Dominica, Ecuador, Francia, Gran Breteña, Hawaii, Japón, México, Panamá, Perú, Puerto Rico, Sudáfrica, España, Uruguay, USA y Venezuela.
"Faltan pocos días para la Ceremonia de Apertura y el inicio del 2013 ISA World Masters Surfing Championship. Todos los equipos nacionales se han anunciado y los atletas han comenzado a llegar al hermoso pueblo de Montañita, Ecuador" recalcó el Presidente de la ISA Fernando Aguerre. "Los surfistas estarán practicando en la perfecta ola derecha en su preparación para el Campeonato Mundial que inicia con la Ceremonia de Apertura el sábado y la competición el domingo. Grandiosas condiciones de surf y olas a la altura del pecho o más arriba de la cabeza en las aguas cálidas de Ecuador están dando la bienvenida a las delegaciones. Como me gusta recordarle a los atletas, mientras algunos competidores se irán a casa con unas medallas, todos ellos son desde ya ganadores, al surfear como miembros de sus Equipos Nacionales".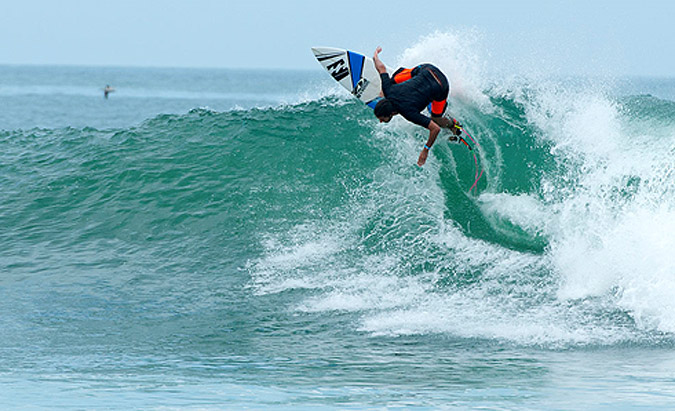 El miembro del equipo de Ecuador, Andres Fernandez, usa su conocimiento local para su ventaja durante la sesión de free surf previo al evento, con los mejores surfistas Masters del mundo. Foto: ISA/Rommel Gonzales
Surfline, pronosticador oficial del evento, ha predecido grandiosas olas para todo el periodo de competencia.
En este momento parece que habrá bastantes olas a lo largo del evento de una combinación de oleajes del suroeste, sur y noroeste con olas a la altura de la cabeza o más altas y series de más arriba de la cabeza entre el 7 y el 9 de abril, con potencial de un oleaje similar o más grande, en una combinación de oleajes del noroeste y el sur durante los últimos días del periodo de espera", dijo Kevin Wallis, pronosticador de Surfline.
A continuación presentamos la lista completa de equipos confirmados. Por favor tome en cuenta que el Registro del Evento finaliza el viernes y puede ser sujeta a cambios. La Lista final puede encontrarse en http://www.isawmsc.com/teams/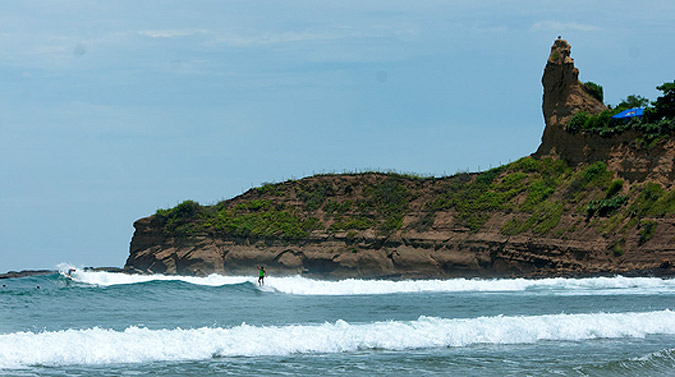 Excelentes condiciones de surf han recibido a los surfistas en el hermoso punto de olas derechas de Montañita. Foto: ISA/Rommel Gonzales
Argentina
Masters: Alejo Martinez y Martin Passeri
Grand Masters: Sebastian Galindo y Santiago Di Pace
Kahunas: Horacio Ipucha y Luis Radziunas Gutierrez
Grand Kahuna: Ernesto Conte Guiterrez
Women Masters: Lucila Gil
Australia
Masters: Jack Spooner
Grand Masters: Scott Schindler y Glen Pringle
Kahunas: Glen Valaire y Terry Landsberg
Grand Kahuna: Charlie O'Sullivan
Women Master: Layne Beachley
Brasil
Masters: Saulo Carvalho y Rogerio Dantas
Grand Masters: Marcelo Alves y Roni Ronaldo
Kahunas: Jojo de Olivenca y Sergio Noronha
Grand Kahuna: Mickey Hofman
Women Master: Andrea Lopes
Chile
Kris Cabezas (division to be confirmed)
Santiago Melus (division to be confirmed)
Grand Masters: Jose Antonio Hernandez  y Renato 'Pelecho" Aguirre (TBC)
Kahunas: Juan Andres Guerra y Christian Ramos
Costa Rica
Masters: Kenneth Avila y Paulo Viales
Grand Masters: Kenneth Avila y Randal Chaves
Kahunas: Craig "Tequila" Schieber y Alejandro Monge
Grand Kahuna: Craig "Tequila" Schieber
Women Master: Veronica Quiros
República Dominicana
Kahuna: Robert Reid
Grand Kahuna: Robert Reid
Ecuador
Masters: Marcos Goncalves
Grand Masters: Rene Burgos
Grand Kahuna: Juan C. Posada / Humberto Dapelo
Women Master: Iiana Crow
Milton Suarez (TBC)
Byron Yagual (TBC)
Eugenio Verea (TBC)
Francia
Masters: Robin Ferderic y Regis Blanchard
Grand Masters: Olivier Salvaire y  Charlie Phillippon
Kahunas: Labastie Eric y Graclet Eric
Grand Kahuna: Darque Gilles
Women Master: Veronique Hayon
Gran Bretaña
Richard Dodd
Hawaii
Masters: Sunny Garcia y Kalani Robb
Grand Masters: Love Hodel y Sunny Garcia
Kahunas:  Mike Latronic y Reuben Balmores
Grand Kahuna: Shuji Kasuya
Women Master: Rochelle Ballard
Japón
Masters: Hiroki Watanabe y Takeshi Terakado
Grand Masters: Masanobu Koga y Katsumi Suzuki
Kahunas: Masahisa Sakamoto y Yasushi Toyoda
Grand Kahuna: Makoto Takahashi
Women Masters: Kiyonaga Akiko
México
Master: Raul Noyola
Grand Master: Elias Burgueno
Kahuna: Edy Samudio
Panama
Masters: Ricardo J. Alfaro y Gary Saavedra
Grand Master: Raul Rios
Peru
Masters: Patick Vanginhoven y Magoo De La Rosa
Cesar Aspillaga
Gabriel Aramburu
Matrin Jeri
Jose Carlos De Tramontana
Karin Sierralta
Puerto Rico
Master: Norberto Pena
Juan Ashton (division to be confirmed)
Ricardo Carbia (division to be confirmed)
Pablo Diaz (division to be confrimed)
Eduardo Cautino (division to be confirmed)
Robert Ferrer (division to be confirmed)
Alberto Licha (division to be confirmed)
South Africa
Masters: Greg Emslie y  Gary Van Wieringen
Grand Masters: Wayne Monk y Carl Roux
Kahuna: Andre Malherbe y David Malherbe
Grand Kahuna: Chris Knutsen
Women Master: Heather Clark
España
Masters: Dani Garcia e Ibon Gamecho
Grand Masters: Dani Garcia y Javier Gonzalez Pinto
Kahuna: Marcos Conde
Grand Kahunas: Marcos Conde
Women Master: Estitxu Estremo/ Ana Gandarias
Uruguay
Masters: Andres Colacce and Ignacio Gandini
Grand Masters: Ferderico Maisterra and Juan Aroztegui
Kahunas: Eduardo Mendez and Guillermo Palfy
Women Masters: Celia Barboza
USA
Masters: Ryan Simmons and Yves Bright
Grand Masters: Dean Randazzo and Rick Takahashi
Kahunas: Jim Hogan and Ricky Schaffer
Grand Kahuna: Allen Sarlo
Women Master: Siri Cota
Venezuela
Masters: Justin Mujica and Magnum Martinez
Grand Masters: Carlos Rodriguez and Jairo Merentes
Kahunas:  Alfredo Flores and Juan Angola
Grand Kahuna: Omar Vetancourt
Women Master: Natasha Rodriguez
Acerca de la International Surfing Association
La International Surfing Association (ISA), fundada en 1964, es reconocida por el Comité Olímpico Internacional como la organización gobernante mundial del Surfing. La ISA regula y define el Surfing como Shortboard, Longboard & Bodyboarding, carreras y surfing en StandUp Paddle, Bodysurfing, Wakesurfing y todos los demás deportes de correr olas en cualquier tipo de ola y deportes en aguas planas utilizando equipo para correr olas. La ISA coronó a sus primeros Campeones Mundiales de las divisiones Hombres y Mujeres en 1964. Coronó a su primer Campeón Mundial de Olas Grandes en 1965; Campeon Mundial Junior en 1980; a los Campeones Mundiales de Kneeboard en 1982, a los Campeones Mundiales de Longboard y Bodyboard en 1988, Campeones Mundiales de Tandem Surfing en 2006; Campeones Mundiales Masters en 2007; Campeones Mundiales de StandUp Paddle (SUP, carreras y Surfing) y Paddleboard en 2012.

Los miembros de la ISA incluyen las Federaciones Nacionales de 103 países en los cinco continentes. Sus oficinas centrales se encuentran en La Jolla, California y es presidida por Fernando Aguerre (Argentina), electo Presidente por primera vez en 1994 en Río de Janeiro y reelecto siete veces desde ése entonces. Los cuatro vicepresidentes de la ISA son Karín Sierralta (PER), Kirsty Coventry (ZIM), Casper Steinfath (DEN) y Barbara Kendall (NZL).