Hawaii's Sunny Garcia and South Africa's Greg Emslie Advance to the Masters Final
Day 6 of the ISA World Masters Surfing Championship was greeted once again with a beautiful warm and sunny morning, and excellent surfing conditions with waves in the overhead range.
Due to the extreme morning low tide, the competition was put on hold for an hour and a half to allow for optimal surfing conditions and give the athletes the best chance of performing in the day's best waves. Once the competition resumed, the surf improved throughout the day.
In a stacked heat during the Masters (under 35) Qualifying Round 5, the first two finalists in the division were confirmed. With a score of 13.53, South African Greg Emslie defeated 2012's runner up in this division, Sunny Garcia (HAW, 11.80), sending Kalani Robb (HAW, 11.17) and Magnum Martinez (VEN, 6.53) into the Repechage.
"It was an amazing day with good sized waves and more tension in the water," remarked ISA President Fernando Aguerre. "As competition is nearing the end, all surfers are performing amazingly, but of course some people will be eliminated. Today is getting down to the wire. Montañita is going to have great waves for the last two days of competition, with Saturday being bigger and Sunday the biggest day. We couldn't have scripted better this event."
It was an action packed day where some surfers had to compete up to three times because they were surfing in multiple divisions. Most of the action that took place was in the Repechage as the surfers were trying to avoid another defeat, which would put them out of the contest. Every division except Grand Masters has confirmed two out of the four finalists.
The remainder of the finalist will be confirmed on Saturday during the final rounds of Repechage.
The best performance in the Grand Masters division was Glen Pringle (AUS,15.86), who defeated Wayne Monk (ZAF, 11.70), Felipe Rodriguez (ECU, 11.40) and Santiago Di Pace (ARG, 11.20). Pringle managed to earn high scores in the difficult, windy afternoon conditions, posting a 7.30 and 8.83 in his two top waves, defeating Monk and sending home the local Rodriguez and Argentina's Di Pace.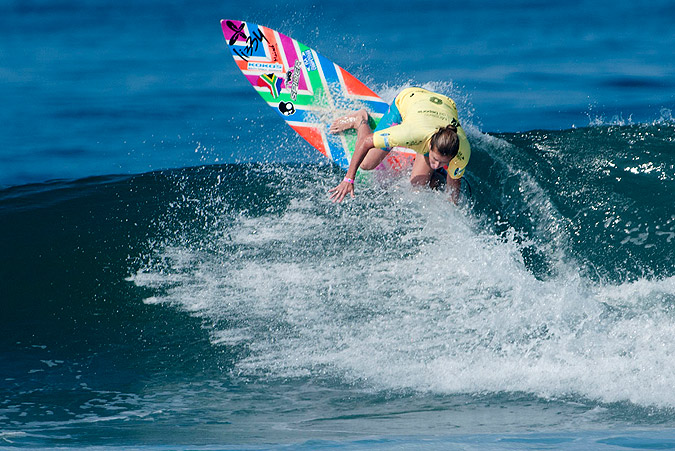 South Africa's Heather Clark advanced to the Women's Repechage Final in hopes of making it to the Women's Final on Sunday. Photo: ISA/Rommel Gonzales
In the Women Masters division, 2008 and 2010 ISA Women's Masters World Champion Heather Clark from South Africa was the top former. Clark posted a total heat score of 15.00, advancing along with Uruguay's Maria Celia Barboza with 9.00. Japan's Akiko Kiyonaga placed third with 5.34 and the upset of the heat was the elimination of last year's Copper Medalist Lucila Gil (ARG), who was fourth with 5.33.
In the Kahuna division, two more finalists of the event were confirmed. 2012 ISA World Master Silver Medalist in the Grand Masters division, Jojo de Olivenca (BRA) reached the Final, where he will be battling against Ricky Schafer (USA), the 2012 ISA World Masters Silver Medalist.
Olivenca posted the highest total score of the division with 15.67 points. Schafer placed second with 14.33. In third, Reuben Balmores (HAW, 12.70) and fourth Glen Valaire (AUS, 12.43) will have to fight through the Repechage to get to the Finals.
For a full list of Day-6 results- http://www.isawmsc.com/results/
Saturday will be an interesting day that will decide the rest of the finalists and will also feature the two semifinals of the ISA Aloha Cup, a tag-team relay competition featuring the top 8 finishing teams from last year's Masters, each with teams made up of 4 men and 1 women.
Also, a special Balsa Wood Surfing Demonstration will take place, organized by the Balsa House in Montanita.  The 45-minute surfing exhibition will feature seven local surfers and the ISA President Fernando Aguerre.
Ecuador has a rich history as the country that has supplied balsa wood for surfboard shapers for decades.  For more than 4,000 years, people from the local Valdivia culture, were able to navigate in open seas as they made pilgrimages to a sacred island- La Isla de la Plata- located 30km from the coast. This expression session symbolizes the local culture that has been around for thousands of years along with the sustainability of using the material that is used to make these surfboards.
The ISA World Masters Surfing Championship resumes Saturday at 7:40am (Ecuador) with The Morning Show hosted by Mark Fewell featuring Sunny Garcia and Greg Emslie, which will be broadcast live on the internet at www.isawmsc.com.
Saturday's Schedule:
Grand Masters (over 50) Repechage 7
Grand Kahunas (over 50) Repechage 4
Masters (over 35) Repechage 7
Women's Masters (over 35) Repechage 4
Kahunas (over 45) Repechage 7
Grand Masters (over 50) Repechage 8
Masters (over 35) Repechage 8
Kahunas (over 45) Repechage 8
Balsa surf Expression Session
ISA Aloha Cup
The live webcast of the World Championship is available everyday during the contest period on www.isawmsc.com beginning at the following times:
Friday, 7:40am Montañita, Ecuador
Friday, 5:40am West Coast USA
Friday, 2:40pm Western Europe
Friday, 11:40pm Sydney, Australia
About The International Surfing Association:
The International Surfing Association (ISA), founded in 1964, is recognized by the International Olympic Committee as the World Governing Authority for Surfing. The ISA governs and defines Surfing as Shortboard, Longboard & Bodyboarding, StandUp Paddle (SUP) Racing and Surfing, Bodysurfing, Wakesurfing, and all other wave riding activities on any type of waves, and on flat water using wave riding equipment. The ISA crowned its first Men's and Women's World Champions in 1964. It crowned the first Big Wave World Champion in 1965; World Junior Champion in 1980; World Kneeboard Champions in 1982; World Longboard Surfing and World Bodyboard Champions in 1988; World Tandem Surfing Champions in 2006; World Masters Champions in 2007; and World StandUp Paddle (SUP, both surfing and racing) and Paddleboard Champions in 2012.

ISA membership includes the surfing National Governing Bodies of 104 countries on five continents. Its headquarters are located in La Jolla, California. It is presided over by Fernando Aguerre (Argentina), first elected President in 1994 in Rio de Janeiro. The ISA's four Vice-Presidents are Karín Sierralta (PER), Kirsty Coventry (ZIM), Casper Steinfath (DEN) and Barbara Kendall (NZL).