Solid Waves Continue While the First Finalists Are Confirmed
Day 5 of the ISA World Masters Surfing Championship was greeted with a beautiful sunny morning and over-head waves at the perfect right hand point-break in Montañita, located in the province of Santa Elena, Ecuador.
Both the Grand Kahunas and Women's Masters have confirmed the first finalists of the event: Layne Beachley (AUS) and Rochelle Ballard (HAW) for the Women's Masters, and Allen Sarlo (USA) and Craig Schieber (CRC) in the Grand Kahuna's. They will be joined by two surfers, who will advance through the Repechage.

South Africa's Greg Emslie was on fire today posting an impressive total heat score of 18.77. Photo: ISA/Michael Tweddle
"What an amazing day of competition," remarked ISA President Fernando Aguerre. "The combination of the increase in swell and the high performance surfing by the world's best Masters, delivered a very exciting day. The World Championship is only getting more thrilling as we reach the last days, so don't miss any minute of the action."
As expected, the swell filled in and delivered 6-8 feet waves. The conditions in the morning were excellent with sheet-glass ocean surface. However, the wind typical for this time of year picked up and turned onshore as the day went on. Even so, Montañita delivered great waves all day.
According to Surfline's official forecast, similar conditions are predicted for tomorrow with waves in the 4-6 feet range with occasional 8-foot sets.  A new, and much larger swell is forecast in time for Sunday's Finals.
The competition is reaching its final stages. The surfers are fighting for the 1st and 2nd places in their heats to keep advancing through the Qualifying and Repechage Rounds. Unfortunately, for the athletes who place 3rd or 4th in the Repechage, their hopes have come to an end.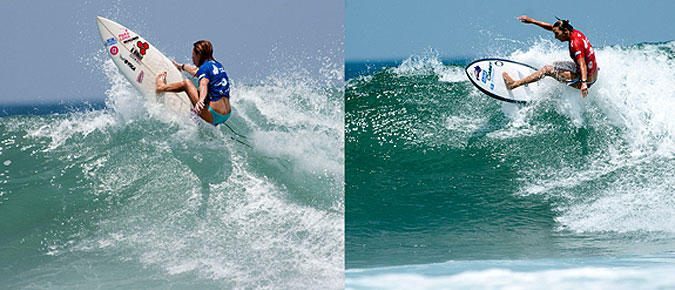 The Kahunas saw their best action in Heat 1 of Qualify Round 4, featuring Brazil's Jojo de Olivenca, Reuben Balmores from Hawaii and Jim Hogan from the United States. De Olivenca had the best heat total in the division today, earning 16.23 points, defeating Balmores (11.77), who finished in second place and sending Hogan (7.77) to the Repechage with third place.
In the Masters Division, Greg Emslie from South Africa had the best performance of the day posting an impressive 18.77 total heat score in his Qualifying heat, defeating last year's Silver Medalist Sunny Garcia (HAW, 10.00), Hiroki Wantabe (JPN, 9.43) and Ryan Simmons (USA, 9.30).
Emslie posted a 9.50 and a 9.27 on his two best individual waves in this heat, placing ahead of his rivals after only five minutes into the heat.
The Grand Kahunas division had its first two finalists in Allen Sarlo (USA, 13.33) and Craig Schieber (USA, 10.96), who are also assured a Medal after placing in 1st and 2nd respectively.
The stand out surfer in the Kahunas division was Mickey Hofman from Brazil, posting 14.24 against Shuji Kasuya (JPN, 11.07), Makoto Takahashi (JPN, 8.33) and Santiago Melus (CHI, 2.33).
During the Women's Masters, Layne Beachley (AUS) and Rochelle Ballard (HAW) secured a Medal for their countries after solidifying their birth into the final.
Beachley, with the highest score of the day for the women, 17.50 points, placed first, followed by Ballard (11.20). Andrea Lopes (BRA, 10.70) and Siri Cota (USA, 5.63).  Lopes and Cota will now have to battle to the Final through the Repechage.
The ISA World Masters Surfing Championship resumes Friday at 7:40am (Ecuador) with The Morning Show hosted by Mark Fewell, which will be broadcast live on the internet at www.isawmsc.com.
Friday's Schedule:
Grand Masters (over 50) Repechage 4
Women's Masters (over 35) Repechage 2
Kahunas (over 45) Repechage 5
Masters (over 35) Repechage 5
Grand Kahunas (over 50) Repechage 3
Grand Masters (over 50) Repechage 5
Women's Masters (over 35) Repechage 3
Grand Masters (over 50) Qualifying 5
Kahunas (over 45) Qualifying 5
Masters (over 35) Qualifying 5
Grand Masters (over 50) Repechage 6
Kahunas (over 45) Repechage 6
Masters (over 35) Repechage 6
The live webcast of the World Championship is available everyday during the contest period on www.isawmsc.com beginning at the following times:
Friday, 7:40am Montañita, Ecuador
Friday, 5:40am West Coast USA
Friday, 2:40pm Western Europe
Friday, 11:40pm Sydney, Australia
About The International Surfing Association:
The International Surfing Association (ISA), founded in 1964, is recognized by the International Olympic Committee as the World Governing Authority for Surfing. The ISA governs and defines Surfing as Shortboard, Longboard & Bodyboarding, StandUp Paddle (SUP) Racing and Surfing, Bodysurfing, Wakesurfing, and all other wave riding activities on any type of waves, and on flat water using wave riding equipment. The ISA crowned its first Men's and Women's World Champions in 1964. It crowned the first Big Wave World Champion in 1965; World Junior Champion in 1980; World Kneeboard Champions in 1982; World Longboard Surfing and World Bodyboard Champions in 1988; World Tandem Surfing Champions in 2006; World Masters Champions in 2007; and World StandUp Paddle (SUP, both surfing and racing) and Paddleboard Champions in 2012.

ISA membership includes the surfing National Governing Bodies of 104 countries on five continents. Its headquarters are located in La Jolla, California. It is presided over by Fernando Aguerre (Argentina), first elected President in 1994 in Rio de Janeiro. The ISA's four Vice-Presidents are Karín Sierralta (PER), Kirsty Coventry (ZIM), Casper Steinfath (DEN) and Barbara Kendall (NZL).